South Africa with Travellers Worldwide on gapyear.com
YOUR ADVENTURE STARTS HERE! Help children, animals and conservation around the world. Gain valuable work experience and new skills. All ages & nationalities welcome. EXPLORE a new culture from the inside on worthwhile, well-structured projects.

FLEXIBLE: From two weeks to one year - you choose your dates and duration.
WILDLIFE VETERINARY MEDICINE INTERNSHIP ON A GAME RESERVE IN LIMPOPO PROVINCE
Countries: South Africa
Duration: from 2 Weeks to 12 Weeks
This is a rare and unique opportunity to gain hands-on veterinary experience with wild animals on a Game Reserve in northern South Africa! This is a fantastic placement with a wide range of situations that you'll deal with, across a few Game Reserves. You'll shadow the vet and you'll learn an unbelievable amount! This placement is the perfect environment for students studying veterinary medicine or an associated career path, or people who have qualified, to gain unusual and rare experience. This project would also provide unqualified animal lovers with an experience you will never forget.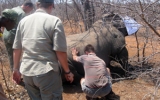 Fantastic Law Work Experience in Cape Town
Countries: South Africa
Duration: from 4 Weeks to 12 Weeks
Observe experts in your field and learn how they work in South Africa. The experience you gain will be invaluable to you in the future and totally different to what you're used to at home. An excellent entry on your CV - and an excellent experience for your future career.
Veterinary Work Experience in Cape Town
Countries: South Africa
Duration: from 4 Weeks to 12 Weeks
Looking to develop a career as a vet? Then this is the pefect opportunity for you. We'll place you in a delightful small veterinary practice in Cape Town, under the supervision of an excellent vet who will endeavour to give you as much knowledge and experience as possible.
Journalism Work Experience in Cape Town
Countries: South Africa
Duration: from 4 Weeks to 12 Weeks
Gain valuable work experience on a large daily newspaper located in the heart of bustling Cape Town. Here you'll have the opportunity to observe, learn and gain excellent hands-on and practical experience. >