Mongolia with On The Go Tours on gapyear.com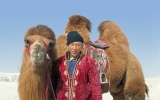 Big Ticket - 19 Days
Countries: China, Mongolia, Russia
Go Bolshoi (Russian for 'big') with this sensational train ride from Moscow to Beijing. Along the way discover the bloody history of Russia, sample the traditional lifestyle of the Mongolians and sit back and enjoy the changing landscape from your carriage!
Highway to Moscow - 13 Days
Countries: China, Mongolia, Russia
Starting in the land of dragons and emperors, this adventure takes you through the land of Genghis Khan and crosses Siberia for Russia's natural wonders. Riding the Trans-Mongolian from China, through Mongolia and finally Russia, join us for the journey of a lifetime!