Multi Country Trips in United Kingdom
Western Europe - 17 Days
Countries: France, Germany, Holy See (Vatican City), Italy, Liechtenstein, Luxembourg, Monaco, Spain, Switzerland, United Kingdom
Duration: from 17 Days
This one-way coach tour of Europe takes in a huge amount over 17 days, including all the highlights of Western Europe you could hope to see. From Rome, make your way to Florence and Pisa before travelling on to Monaco and the French Riviera. Then it's off to Arles, Barcelona, Pont du Gard, Avignon, Switzerland, Liechtenstein, Munich, the Rhine Valley, Luxembourg, Paris and finally London.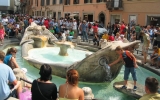 Rome to London - 10 Days
Countries: Germany, Holy See (Vatican City), Italy, Netherlands, Switzerland, United Kingdom
Duration: from 10 Days
The Rome to London one-way tour starts in Rome, making it real easy for you to combine this with your own travels. All you have to worry about is booking your own flight to Rome or simply join us after your own holiday. We take care of the rest and the tour is designed to accommodate the "spur of the moment" traveler.