Country Starter Packs in United States of America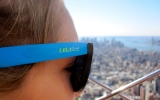 Work your way - around the USA!
Countries: United States of America
Duration: from 12 Months
Calling all Aussies & Kiwi's! Enjoy the flexibility and the freedom to experience everything the US has to offer. With the Letz Live 12-month Work & Travel Program, there are no set dates for your travel, and the type and duration of your employment is almost limitless. That's right - the USA is yours for the taking!