Country Starter Packs
Country Starter Packs are just that, a pack of travel that will help you to get started in a country. Anyone who's purchased one will find it helps them to settle in a country a little easier, and it's nice to have something waiting for you on arrival.
Country Starter Packs can be anything from a Work and Travel New Zealand package where you have someone waiting for you on arrival, 2 nights of accommodation and a bank account, among many other things. To the Guaranteed Job Before You Leave for Australia offer where you'll arrive at a job that typically pays £200+ per week. You'll have an interview before you arrive so you're well prepared for landing, and get all assistance within the country catered for.
In general, although you'll have to check the listings, you will get the following in your Country Starter Pack:
Destination bank accounts
Tax numbers
A destination SIM card
Discounted training courses
Help sorting visas
Guides to tax refunds
CV reviews
Airport transfers
Some accommodation
Tours
Welcome dinners
Why Do I Need a Country Starter Pack?
Country Starter Packs are the perfect way to take the stress out of arriving in a new country. If it's your first time away from home, whether you're with friends or not, it can be really helpful to have someone to meet you from the airport and to help you settle into a new culture and life.
Country Starter Packs aren't just an airport transfer though. They take the stress out of arriving in a new country and allow for an expert to organise the first few days of your gap year so you can just relax and enjoy it. Then, once you're settled and have made some friends at the orientation, you can take over the reins safe in the knowledge that your essentials – like bank accounts, tax numbers and SIM cards – have all been taken care of.
The packs are also a great way to show any worried parents that your arrival in a country is sorted and safe. Just show them the fact that you get 24-hour support within your destination and a few days of accommodation and they'll practically be paying for it for you, hopefully.
Where are the Country Starter Packs available?
If you're thinking of applying for a Working Holiday Visa for Australia a Country Starter Pack is invaluable. We've got loads of Australia arrival packages available for you to choose from. The same goes for New Zealand, you can get a job before you even arrive with the Country Starter Packs available.
While in destinations like Thailand or Fiji Country Starter Pack are a fun way to be introduced to the country by people in the know.
In the USA one of the main reasons for booking one is the travel discounts in country you'll receive, and for the hostel membership that lasts the year. In Canada you can have a readymade job in a ski resort waiting for you when you arrive. Awesome!
Some Ideas!
Australia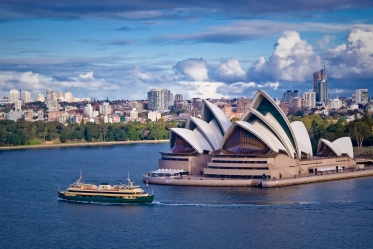 Australia is still the most popular country in the world when it comes to backpacking. 5.7 million tourists visited the country during 2009/2010, many of those as backpackers.
There's so much to see and do, such as diving on the Great Barrier Reef, exploring the city of Melbourne, visiting the Uluru and sailing around the Whitsundays.
Come see what Australia has to offer...
Idea of the Month
Idea of the Week