Explore Asia
Page 2 of 2 pages (20 results)
Beijing to Hong Kong Express
Countries: China
Duration: from 10 Days
THIS TRIP IS PERFECT IF YOU'VE GOT LIMITED TIME BUT STILL WANT TO SEE THE MAJOR ATTRACTIONS IN CHINA. IN TEN ACTION-PACKED DAYS WE VISIT THE GREAT WALL AND THE FAMED TERRACOTTA WARRIORS NEAR XIAN, BEFORE HEADING TO YANGSHUO, TO SEE ITS BREATHTAKING COUNTRYSIDE ON BIKE. OUR FINAL DESTINATION IS HONG KONG, WHERE WE ARRIVE ON A SPECTACULAR HYDROFOIL RIDE INTO VICTORIA HARBOUR. THIS JOURNEY IS SURE TO LEAVE YOU WANTING MORE!
Footsteps of Hilary
Countries: Nepal
Duration: from 16 Days
EDMUND HILLARY AND SHERPA TENZING NORGAY WERE THE FIRST ONES TO SUMMIT EVEREST IN 1953. EVEN THOUGH YOU WON'T BE CLIMBING THE GREAT MOUNTAIN YOU'LL STILL FEEL THE RUSH OF BEING UP THERE WHERE IT ALL BEGAN.
Delhi to Darjeeling
Countries: India
See India's famed Golden Triangle, the exquisite temples of Orchha and Khajuraho and the ancient holy city of Varanasi before heading towards the Himalayas in remote Kalimpong and tea central in Darjeeling.
Taj Express - 8 Days
Countries: India
Experience the richness of Indian culture on a tour of the famed Golden Triangle – discover the split personality of the melting pot capital of Delhi, the spectacular symbol of love, the Taj Mahal, and the gorgeous Pink City of Jaipur.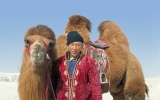 Big Ticket - 19 Days
Countries: China, Mongolia, Russia
Go Bolshoi (Russian for 'big') with this sensational train ride from Moscow to Beijing. Along the way discover the bloody history of Russia, sample the traditional lifestyle of the Mongolians and sit back and enjoy the changing landscape from your carriage!
Page 2 of 2 pages (20 results)