Game Park
Page 2 of 2 pages (23 results)
Amakhala Game Reserve
Countries: South Africa
Duration: from 2 Weeks to 12 Weeks
Feel the heartbeat and rhythm of Africa at Amakhala Game Reserve, which has quickly become one of the finest tourist destinations in the Eastern Cape wilderness. It is a malaria free reserve which boasts the accolade of accommodating the Big Five in South Africa. In addition to the king of the jungle, timid leopards, clumsy rhinos, graceful elephants and mystic buffalo make up the big five. In addition, a diverse abundance exploding in a variety of antelope and other species such as giraffe, warthog and cheetah roam the plains which form Amakhala Game Reserve which will provide you with African memories which will last forever. Amakhala's ethos is one of community support where volunteers get involved in the local Isipho orphanage and contribute by playing games, educating the children and support with the vegetable garden. Volunteers can also contribution through community clean ups and visits to the Amakhala Craft Center.
Wildlife Tracking Course
Countries: Botswana
Duration: from 2 Weeks to 2 Weeks
Track African predators through the Botswana Wilderness in this adventurous 2 week course
Imire Black Rhino and Elephant conservation
Countries: Zimbabwe
Duration: from 2 Weeks to 8 Weeks
An amazing opportunity to contribute to the protection and conservation of the African elephant and endangered Black Rhino. Experience these amazing animals closer than you ever thought possible and get a unique behind the scenes look at day to day life in an African game park.
African Wildlife Big 5 Game Reserve Conservation, South Africa
Countries: South Africa
Duration: from 2 Weeks to 12 Weeks
Live in the heart of a Big 5 game reserve and help monitor and research the African Big 5, (leopard, lion, elephant, rhino and buffalo) and assist with vital conservation initiatives like snare sweeping, erosion control and alien plant removal.
Game Capture Team
Countries: South Africa
Duration: from 2 Weeks to 12 Weeks
Work with a South African wildlife capture team and help relocate buffalo, rhino, giraffe and plains game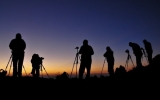 Thanda Photography Project
Countries: South Africa
Duration: from 4 Weeks to 8 Weeks
Thanda Private Game reserve, is ideally situated in a private game reserve of 14,000 hectares of pristine bush and is home to the Big 5, the extremely rare African Wild Dog and Cheetah. The area is home to the Zulu tribe, a group of people with a very lively and colourful culture. It is within this impressive setting that we offer you the opportunity to improve your photography skills, to photograph the phenomenal wildlife in the area, and to help raise awareness in the local community about the importance of conservation. In the impressive setting of a Private Big 5 Game Reserve, this unique programme offers photography enthusiasts the opportunity to get a different perspective on Africa…
Kariega Game Reserve
Countries: South Africa
Duration: from 2 Weeks to 12 Weeks
The Kariega Conservation Project is designed to offer volunteers the opportunity to be involved in all conservation related projects on the reserve. You may start seeing yourself as "assistant conservation managers" as all of the work done by you will improve the quality of the reserve. *Please note – all prices for this placement programme have been held for 2013!* The data collected by you will be utilized by Kariega management in making important conservation decisions for the reserve. As a volunteer you therefore derive a good deal of satisfaction from your work, as your efforts directly contributes to improving the reserve.
Page 2 of 2 pages (23 results)