Rhino
Bring Hope to a Community Through Education from Preschool to Vocational Skills Development
Countries: Zimbabwe
Duration: from 1 Weeks to 4 Weeks
Come and enjoy working alongside a community, helping them to develop their own project, a preschool that caters for the orphaned and vulnerable of that community and a skills development centre to empower their caregivers. Teach the children, work with the caregivers, help us build mushroom projects and dig veggie gardens. Become a part of a vibrant community and learn how they live on the smell of an oil rag but live a full life. We also offer you the option of extending your stay and moving to our partner, Imire, where you can enjoy time on a conservation project working with rhinos and elephants at a professional, world class site.
African Wildlife Big 5 Game Reserve Conservation, South Africa
Countries: South Africa
Duration: from 2 Weeks to 12 Weeks
Live in the heart of a Big 5 game reserve and help monitor and research the African Big 5, (leopard, lion, elephant, rhino and buffalo) and assist with vital conservation initiatives like snare sweeping, erosion control and alien plant removal.
Mofemedi Rhino Recovery Initiative
Countries: South Africa
Duration: from 2 to 12 Weeks
Protect one of Africa's most vulnerable species - Track and monitor rhinos in South Africa to help prevent poaching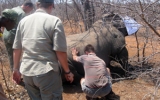 Imire Black Rhino and Elephant conservation
Countries: Zimbabwe
Duration: from 2 Weeks to 8 Weeks
An amazing opportunity to contribute to the protection and conservation of the African elephant and endangered Black Rhino. Experience these amazing animals closer than you ever thought possible and get a unique behind the scenes look at day to day life in an African game park.
Game Capture Team
Countries: South Africa
Duration: from 2 Weeks to 12 Weeks
Work with a South African wildlife capture team and help relocate buffalo, rhino, giraffe and plains game
WILDLIFE VETERINARY MEDICINE INTERNSHIP ON A GAME RESERVE IN LIMPOPO PROVINCE
Countries: South Africa
Duration: from 2 Weeks to 12 Weeks
This is a rare and unique opportunity to gain hands-on veterinary experience with wild animals on a Game Reserve in northern South Africa! This is a fantastic placement with a wide range of situations that you'll deal with, across a few Game Reserves. You'll shadow the vet and you'll learn an unbelievable amount! This placement is the perfect environment for students studying veterinary medicine or an associated career path, or people who have qualified, to gain unusual and rare experience. This project would also provide unqualified animal lovers with an experience you will never forget.
Vets Go Wild
Countries: South Africa
Duration: from 16 Days
Take part in Vets Go Wild – as seen on ITV's Safari Vet School! If you are looking for a hands-on Africa vet experience and need to fulfill a portion of your Extra Mural Study (EMS) requirements, Vets Go Wild have the perfect animal care courses for you, featuring the opportunity to work with vets in South Africa.
Horse Riding, Cattle Mustering and Wildlife Conservation
Countries: South Africa
Duration: from 2 Weeks to 4 Weeks
The most fun that you can have on a horse! Combine important wildlife conservation volunteer work focusing on the endangered Black Rhino and African elephant, with cattle mustering and camp-outs - all done on horse-back! Live amongst the wildlife and get a behind the scenes look at life on an African game reserve. A must for horse and wildlife enthusiasts!
Kruger to Coast Experience
Countries: Swaziland
Duration: from 4 Weeks
Get ready for an adventure that gives you the chance to experience Southern Africa's wonders; set off on safari, spend 5 days in Kruger National Park, take a dip with Whale Sharks and get a taste of Swazi life!
Wild Dog, Rhino Conservation and Community Outreach
Countries: Zimbabwe
Duration: from 2 Weeks to 20 Weeks
An incredible opportunity to live in one of Africa's true wilderness areas and really contribute to endangered species conservation, focusing on the African Wild Dog and Black Rhino. You will support the existing work being done by the Conservancy to help preserve vulnerable species and restore the natural environment.