Articles and Advice
Need help on figuring out which jabs you need before you travel? Wondering how to meet people in hostels? Want to move off auto mode and take some seriously cool pictures with that brand spanking new camera you got for your birthday?
We've got it covered. Everything. This section will answer pretty much any travel-related question imaginable. It is dedicated to gap year advice and boasts one of the most comprehensive sections of travel articles on the web. Our travel articles have always been written by backpackers, for backpackers, so all the advice and information you find here, be it packing the right things in the right way, dealing with homesickness or raising money to buy that dream ticket, are borne out of first-hand experience.
To filter everything down we've divided the article categories into eight sections: adventure and sport, documenting your trip, cultural advice, getting around, gap year advice, travel essentials, volunteering and eco travel, and advice on working abroad.
Stockholm is renowned for being an expensive city to visit, so here's a guide to making the most of Sweden's captivating capital on a tight budget.
---
Travelling solo is always an amazing experience, but some countries make it easier than others. Here's a quick guide to top solo destinations.
---
Everybody can photograph their entire gap year these days, but how do you take images that will stand out from the crowd? Here are a few tips.
---
Sarah visited Colombia as an after thought on a long trip through South America, what she didn't expect to find was beautiful scenery, warm hearts and a new holiday romance...
---
Street art is Lisbon is undergoing a revolution. Between the incredible historical sites and popular attractions, you'll find a city embracing new art.
---
At 26 years old, Kate McWilliams is the youngest commercial airline captain in the world, and Luke Elsworth, 19, is one of the UK's youngest pilots.
---
Backpacking South America on a budget? It is possible, if you know where to go and what to look for. Luckily, we're here to help you out.
---
Cemeteries probably aren't high up your London must-see list, but the city is rich with 'dead spaces,' offering amazing history and atmosphere.
---
Israel doesn't appear on many travel bucket lists, but it's full of incredible sights and experiences that you really won't find anywhere else in the world.
---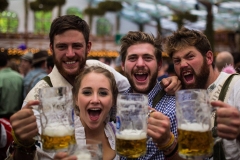 Oktoberfest - Germany's annual beer festival - is an experience like no other, and you might come back feeling you've violated all seven deadly sins.