Travel Articles about Culture
Where there are humans, there is culture, so almost all of your travel will be cultural in that sense, whether you're admiring the grand old cathedrals of Europe, wandering around the remains of ancient civilisations in South America, sampling the local cuisine in Southeast Asia, learning a new language in Africa or experiencing religious festivals in India.
Learning about and experiencing different cultures is perhaps the greatest gift travel can bestow. It is no coincidence that people who have had the courage to get out there and explore the world are among the most tolerant people who inhabit it. They all come to the realisation sooner rather than later that humans are just humans, regardless of religion, ethnicity and language.
In this section you'll find articles which will help prepare you in a cultural sense for your big adventure, ranging from art and music to food and drink to history and religion.
When travelling you often leave a place sooner than you'd like, but that's no excuse for not getting intimately acquainted. Here are some tips.
---
Spending Christmas abroad while travelling can be tough, but it doesn't need to be depressing. Make travelling at Christmas an opportunity.
---
The 1986 Chernobyl Nuclear Disaster has created a morbidly fascinating tourist attraction in the form of its Exclusion Zone and ghost towns.
---
Krakow has over 200 bars, and here we've put together a list of those that are best for backpackers; no dress code or huge entrance fee.
---
Stockholm is renowned for being an expensive city to visit, so here's a guide to making the most of Sweden's captivating capital on a tight budget.
---
Sarah visited Colombia as an after thought on a long trip through South America, what she didn't expect to find was beautiful scenery, warm hearts and a new holiday romance...
---
Street art is Lisbon is undergoing a revolution. Between the incredible historical sites and popular attractions, you'll find a city embracing new art.
---
Cemeteries probably aren't high up your London must-see list, but the city is rich with 'dead spaces,' offering amazing history and atmosphere.
---
Israel doesn't appear on many travel bucket lists, but it's full of incredible sights and experiences that you really won't find anywhere else in the world.
---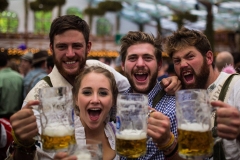 Oktoberfest - Germany's annual beer festival - is an experience like no other, and you might come back feeling you've violated all seven deadly sins.