Travel Articles about Culture
Where there are humans, there is culture, so almost all of your travel will be cultural in that sense, whether you're admiring the grand old cathedrals of Europe, wandering around the remains of ancient civilisations in South America, sampling the local cuisine in Southeast Asia, learning a new language in Africa or experiencing religious festivals in India.
Learning about and experiencing different cultures is perhaps the greatest gift travel can bestow. It is no coincidence that people who have had the courage to get out there and explore the world are among the most tolerant people who inhabit it. They all come to the realisation sooner rather than later that humans are just humans, regardless of religion, ethnicity and language.
In this section you'll find articles which will help prepare you in a cultural sense for your big adventure, ranging from art and music to food and drink to history and religion.
Can you visit Porto in just two days? We think you can, and this city guide to things to do in Porto will prove it without any doubt. Get going!
---
As your first stop in Australia, Sydney can seem pretty hectic when you first land. Here are the things you should do first to settle in for a great time.
---
Dubai is a common stopover destination when flying to SE Asia, and there's plenty there to enjoy your night before moving on.
---
San Francisco is an amazing city, but potentially expensive for backpackers on a budget. Here's how to see San Francisco on a shoestring.
---
Landing in Bangkok for the first time can be an overwhelming experience. So we've put together a quick list of everything you should do first.
---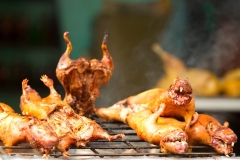 Trying new food when travelling is a big part of the experience, so if you're in South America why not try something really, really weird.
---
The Korean demilitarised zone is the potential front line for a new World War. This is what it was like to visit as a tourist from the South Korean side.
---
You're probably vaguely aware that the Faroe Islands exist, but a lot of travellers have no idea just how close they are to the UK.
---
If you're still cross you never got the invite to Hogwarts, take matters into your own hands by doing a Harry Potter tour of London.
---
The world is full of crazy food festivals, whether you're eating, throwing, or killing it. Here are the most bizarre we managed to find.