Travel Articles about Culture
Where there are humans, there is culture, so almost all of your travel will be cultural in that sense, whether you're admiring the grand old cathedrals of Europe, wandering around the remains of ancient civilisations in South America, sampling the local cuisine in Southeast Asia, learning a new language in Africa or experiencing religious festivals in India.
Learning about and experiencing different cultures is perhaps the greatest gift travel can bestow. It is no coincidence that people who have had the courage to get out there and explore the world are among the most tolerant people who inhabit it. They all come to the realisation sooner rather than later that humans are just humans, regardless of religion, ethnicity and language.
In this section you'll find articles which will help prepare you in a cultural sense for your big adventure, ranging from art and music to food and drink to history and religion.
When you start researching New Zealand, you often find plenty of hype about South Island but not so much North Island. Let's fix that!
---
There are so many things to do in Auckland, but after that long flight you need to prioritise. Here's our guide to Auckland when you've just arrived.
---
Chile is home to so many incredible landscapes that are packed with things to do. We've chosen seven Chile activities that you shouldn't miss.
---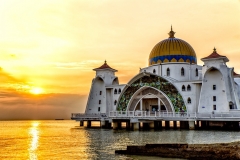 Malaysia isn't as popular with gap year travellers as its South East Asian neighbours, despite the incredible things it has to offer backpackers.
---
Many backpackers choose to base themselves in one city for at least a month, and we've rounded up 10 of the best options in the world.
---
Can you visit Porto in just two days? We think you can, and this city guide to things to do in Porto will prove it without any doubt. Get going!
---
As your first stop in Australia, Sydney can seem pretty hectic when you first land. Here are the things you should do first to settle in for a great time.
---
Dubai is a common stopover destination when flying to SE Asia, and there's plenty there to enjoy your night before moving on.
---
San Francisco is an amazing city, but potentially expensive for backpackers on a budget. Here's how to see San Francisco on a shoestring.
---
Landing in Bangkok for the first time can be an overwhelming experience. So we've put together a quick list of everything you should do first.