Advice on City Breaks
Whether you're on your gap year in the countryside and want to head into the city for the bright lights, or you just need a city break from your daily grind, taking a few days to explore the city will sort you right out.
There are 36,722 cities in the world, so you have to forgive us for not including them all, but below you'll find guides to a handful of the most popular city breaks for gappers. What to eat, what to drink and what to see are all covered in our top gappers' guides. Enjoy.
Amsterdam is always a backpacker's first stop in the Netherlands, but do so few people never go outside it? This is what you're missing.
---
Houston is an amazing city to see if you're down in the south of the USA. Here are seven things you shouldn't miss while you're there.
---
Bodrum in Turkey might be associated with package holidays, but it can offer a great short break for backpackers looking for some culture.
---
There's a huge amount to do in New Orleans, and so much of it is free! You can experience all the Big Easy has to offer without spending a dime.
---
You might know Amsterdam for its coffee shops and the Red Light District, but there's so much more to discover in this amazing city.
---
Williamsburg in Brooklyn, New York is widely considered *the* place to visit. But these days it's elsewhere in Brooklyn where the action waits.
---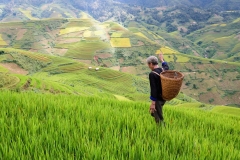 Ubud is the heart and soul of Bali, and this guide is guaranteed to help guide you through it, whatever you like to do while you're travelling.
---
Amsterdam can be a wild city any night of the week, so what happens when you accidentally turn up on the national holiday of King's Day?
---
Exotic, colourful, historic, and packed with culture – Marrakech is a feast for all the senses! Here are the things you really shouldn't miss.
---
Barcelona is a great choice for a weekend with your friends or for a stop off on an InterRailing trip. Here's everything you can do in 48 hours.