Travelling is a great way to learn a language, and Spanish is one of the most useful. Here are the best destinations in the world to pick it up.
Learn a little about what languages are spoken in Egypt, as well as some key Egyptian phrases you can use.
Learn a little about what languages they speak in Malaysia, where you'll hear samples of so many South East Asian languages.
Travelling abroad is the best opportunity to learn another language you'll ever have. Here are some tips to help you make the most of it.
Learn about the languages they speak in South Korea to help your gap year go off without a hitch.
The Japanese are often known as a reserved people, but Vicki Holman saw an alternative, more gregarious side to them while she was living and working in the country as a teaching assistant.
Teaching English abroad is not only a great way to give something back on your gap year, but also a good money maker! Check out these top TEFL destinations and advice...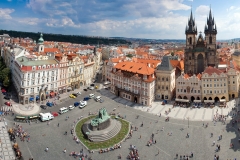 Teaching English as a foreign language is one of the most popular activities you can do on your gap year and Prague is one of the most beautiful cities to do it in.
The top reasons why you should study abroad and a chat with Dave Brett, an expert in studying abroad in Finland and the Netherlands.
Ben Robson spent 5 months volunteering, teaching English in Sichuan Province, China. Big classes, great food and smart kids; he shares his experiences.