Advice on Accommodation for Your Gap Year
After your flight and your destination, your accommodation will be the next thing you book. Most gappers will choose to stay in hostels and save their money for adventure. If you've never stayed in a hostel before you're in for a treat. Not only are they great value (if you choose wisely), they're also a great environment for making friends, a perfect way to save money on food and drink costs and, usually, you can get free Wi-Fi too.
There are a few things you need to keep in mind when choosing your hostel though. Have a read of our First Timer's Guide to Hostels before you even begin your booking process – there's a whole load of tried and tested advice in there. We've also got some advice on something only the hardiest of backpackers can do, sleeping in airports. Read on to find out more…
Backpacker accommodation in Cuba is hard to come by. Homestays are readily available and a great way to discover this amazing country.
---
Do you dream of waking up and opening the door directly onto a pristine beach? Then you'll probably like Mexican cabana living.
---
Couchsurfing can be more than a free bed. It can be your way into a passionate travelling community, whether you're hosting or travelling.
---
Airbnb is a travel accommodation phenomenon, but some backpackers are still scared to use it. This easy guide should put your mind at rest.
---
Some backpackers can never imagine hanging up their hostel hat but, in your mid-twenties, is the hostel expiration date looming? Or are you never too old for a hostel?
---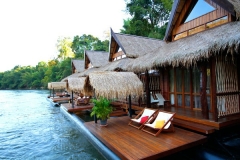 Floating bedrooms and beach bungalows. Accommodation is a huge part of any trip, and Thailand offers some fun, quirky, and bizarre choices to rest your head for the night.
---
About five years ago, a 26 year old guy had the same idea that many of us do: quit the job, pack the bags, travel the world, fall in love and never come back. The difference is, he actually did it.
---
From cement bag filled storage sheds in the pouring rain, to rooftops in war-torn countries, this traveller has slept in some very unusual places over the past few years.
---
Losing your hostel virginity might feel a bit intimidating, or downright terrifying if you've ever seen the movie 'Hostel'. Gapper Helen stayed in one for the first time in Germany...
---
Warrick Howard has written a simple, handy guide to getting through dorm life without making any of the typical 'newbie' mistakes. Make sure you follow these rules!