Articles About Travel Tech
Technology has revolutionised the world and all its industries, none more so than the travel industry. It's now easier than ever to stay in touch with home, to record your experiences – either through photography, video or writing – and of course to share your amazing adventure with your friends, family and anyone else who cares to be in the know. Gone are the days of the dreaded holiday slideshow.
In this section you'll find loads of articles which deal with travel tech and gadgets, whether it's advice on the best travel apps to download before you do away or a guide on how to take really decent photographs with your smartphone.
Meeting people when you're travelling can be tricky, and Tinder is proving itself a vital app for making new friends and discovering new destinations.
---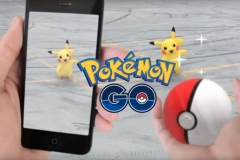 Pokémon Go is taking over the world, and we truly believe that travellers are in the perfect position to become the ultimate Pokémon masters.
---
There's no shame in using your phone when you travel. There are loads of apps out there to improve your travel experience. These are the best.
---
A gap year is a huge adventure, but it can also have boring moments. Download these games on your phone or tablet, and you'll never be a bored backpacker again.
---
These days access to free wi-fi is vital to any gap year. But it can come with a number of risks to your security. This infographic tells you how you can stay safe on free connections.
---
Your phone is your best friend on a gap year. Here's how to avoid breaking it, getting unexpected bills, keep it charged, keep yourself entertained, and a lot more.
---
An update on some of the best travel apps every backpacker needs for their gap year. From sunscreen alarms to personal assistants, smart-phone applications have got you covered.
---
Facebook. We love it and we hate it in varying measures. If you're going off on your gap year there are a few things you can do to ensure you still have friends when you return.
---
With more than 775,000 options in the App store, how is the busy gapper to know which ones to choose? We've made things easy for you, here are our top apps for your trip.
---
Using your smartphone abroad has never been easier. That's why you should know how to keep in touch with friends and family while backpacking & travelling.