Travelling solo is awesome. Tough, trying, and exhausting, but absolutely brilliant. Vicky has been doing it for over two years. Here are her tips.
Your gap year should be all about adventure and fun, but that shouldn't come at the cost of getting into serious trouble. Be careful out there!
Meeting people when you're travelling can be tricky, and Tinder is proving itself a vital app for making new friends and discovering new destinations.
When you've travelled for a long time, you might start to think basic safety advice doesn't apply to you. That could turn out to be a mistake.
Thailand is a destination for many first-time travellers, so common myths can cause a lot of worry. We're here to clear them all up for you.
If you're an introvert or Highly Sensitive Person, you might think travel isn't for you. But travel is for everyone! Here's how you can do it.
Drinking is a big part of travel culture, but if you don't drink it shouldn't put you off taking a gap year. Here's some advice to help you cope.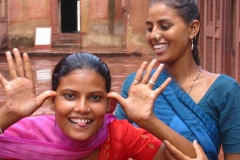 India has a reputation that might put off solo female travellers. But it can be done, and you shouldn't miss out. Here's how to see this incredible country and stay safe.
Public transport is vital to any successful gap year, but some countries follow different rules to what you're used to. Here's a worldwide guide to public transport etiquette.
With so many new sights and sensations on the road it's easy to take your eye off the ball and leave yourself open to being scammed. Read on to read up.