Gap Year Journey Planners
Route planners are a great way to identify the best paths to travel to get the most out of your gap year. Journey planners can also help you discover new destinations you hadn't thought to travel to! Route planners can help you manage your stint away and work out how best to meet up with friends who are also travelling but have chosen to discover a different path.
Route planners help identify the best transport options to choose from such as cruising the areas neighbouring the Andes Basin in South America to jumping on a coach roughing the classic 10 hour route from Bangkok to Chiang Mai in Thailand. With route planners you are totally in control. There is a great selection of articles that can help you organise your independent travel, leaving you feeling confident with your travel choices.
If you need a helping hand organising your gap year journey then check out the latest route planners available to you. And if you have a suggested route that you've tried and tested and want to share with the gapyear.com community then make sure you jump on our message boards and share the knowledge!
Recent political thawing has seen backpacking in Cuba become hugely popular. Still not sure? Here are some must-read travel tips.
---
Get Valentine's Day wrong and your relationship can be dead in the water. Here are 14 unromantic destinations to avoid when trying to impress your lover.
---
The Malaysian capital Kuala Lumpur is a must-see on any Asian adventure, and this complete guide to the city will make sure you get the absolute most out of your visit.
---
This article is jam-packed with brilliant and really useful advice on firstly how to get into Russia (not as easy as you might expect) and secondly on how to travel around the country once inside.
---
Ex-gapyear.com Travel Editor, Macca Sherifi, has released his book, Your Round the World Trip Planner. We caught up with him in Romania to find out why.
---
Follow Saunders and Ollie as they show you exactly how to cross the border from Vietnam to Laos, and get a fun surprise in the form of a propeller aeroplane out of 'Nam.
---
Every year we get the same questions about round the world tickets. Instead of constantly answering your questions, that we'd write an article about it.
---
Taking time out from education is a great way of getting a taste of the real world. Employers look favourably on gap years as a sign of independent thinking, self-motivation.
---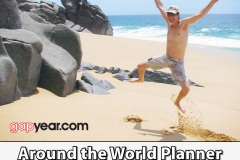 Organising a trip around the world isn't as hard as it seems, but there's lots to think about and it can seem daunting at first. That's why we have created this wonderful download planner containing everything you need...
---
The New Zealand Planner is the perfect accompaniment to our Around the World Planner and also works neatly with the Australia Planner. Download it now! Download them all! They're brilliant...