Female Travel Advice Articles
Solo female travel has been a talking point since the dawn of the gap year. You're a young, unconstrained female who knows her Bangkok from her Bangladesh, so there's nothing stopping you. Independent female travel has become more and more popular over the last decade due to women generally wanting to settle down later in life instead of rushing into marriage.
In this day and age, nothing is stopping you from following your solo female travel dreams and roaming the globe. Just be sure to be careful. There are places that will require you to look and act differently because of your gender; make sure you know which countries they are. What if you're living it up, island hopping the Pacific Islands and you notice you've run out of the Pill? What do you do next? You've just travelled from north to south Vietnam where there has been a radical climate change. It's time to change out of your trousers and into shorts but you don't have any razors and the locals don't generally stock up on them in the village shop. How do you take care of any hair removal?
Female travel can be the best adventure of your life. It's something you'll always look back on with pride; just make sure you've done your research. To help you, we have a selection of female travel advice articles we've collated throughout the years. Read up and enjoy!
Colombia has a bad reputation, and there are still safety concerns. But it's also a bewitching destination. Here's some advice for female travellers.
---
Laura Jane Williams swore a vow of celibacy and travelled the world after having her heart broken. Now her story has been published as a memoir.
---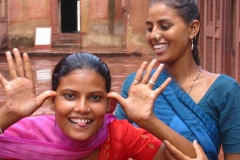 India has a reputation that might put off solo female travellers. But it can be done, and you shouldn't miss out. Here's how to see this incredible country and stay safe.
---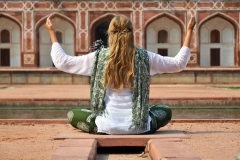 Arriving in the chaos of Delhi, India can be overwhelming. Thankfully there's Haus Khaz, a welcome retreat that's cool, calm, and perfect for the hipster crowd.
---
There are so many things to do in Java, yet it's not a popular stop on the backpacking trails. Here's a guide to help you make the most of this beautiful island in Indonesia.
---
You might not see yourself as an intrepid traveller, but working at a summer camp in the USA can be the perfect way to break away from home, make friends, and see the world.
---
Venezuela is well known for its natural wonders, beauty queens and parties, but now it seems famous for violence and riots, Sarah has hope for the future though.
---
Rebecca Root offers up her tips on how not to look stupid trying surfing for the first time, half the gap year team could've done with this guide a while back.
---
Love backpacking, but hate the backpack? Gapper Anna Claeys shows how little people can travel without the pain of a huge rucksack.
---
Travelling with your significant other is easier said than done. Luckily for us, Marta Napierala has given her top 5 tips on how to travel with your partner.