Advice on Making Friends Abroad
Meeting people on your gap year can be one of the biggest challenges of being away from all that you know at home. It's often the number one worry of anyone about to embark on a gap year. Meeting people abroad is just like meeting people at home though. In fact, it's actually a lot easier as everyone else will be desperate to make friends too. If you fake a bit of confidence to start I can guarantee you'll enjoy your gap year more. Most people returning from their gap year will cite the people they met as one of the best things about the whole year.
You already have something in common with the other travellers, the fact that you're travelling. The obvious opener questions include 'Where've you been?' 'What have you been up to today?' and 'Where are you from?'. As soon as you have the initial newbie awkwardness out of the way you can get started on the meaty conversation and actually make friends. For more on meeting people abroad, read on…
Some backpackers consider 'tour' a dirty word, but there can be huge benefits to travelling as part of an organised group.
---
As your first stop in Australia, Sydney can seem pretty hectic when you first land. Here are the things you should do first to settle in for a great time.
---
Meeting people when you're travelling can be tricky, and Tinder is proving itself a vital app for making new friends and discovering new destinations.
---
Going to Australia and worried about making friends? We understand, and that's why we've put together some tips on how to find some mates.
---
A gap year is the perfect time to sow your wild oats, but you can find true love while travelling? We talked to some travellers who did exactly that.
---
Travelling solo is always an amazing experience, but some countries make it easier than others. Here's a quick guide to top solo destinations.
---
Travel is an amazing way to make new friends, but it doesn't make it easy to keep hold of older friendships. This is why you should make the effort.
---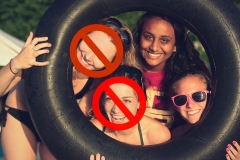 Travelling by yourself can get lonely. But if you're not careful you could end up with a travel mate you hate. Here's how to ditch them.
---
Are your friends resisting an absolutely incredible gap year together? Giving out excuses like a drug mule in a prison? Here are some remedies.
---
Some people go on gap years for sex. There's no use pretending. So we thought we might as well put some tips together to help them on their quest. Stay safe!