Advice on Getting Around
One of the best things about travel is the literal movement that comes to dominate your life. There is always somewhere to be, some new glimmer on the horizon, and the freedom you've given yourself by deciding to take a year out means you can spread your wings and pretty much go wherever you please.
It's tempting to think that once you've paid for your round the world ticket you can just tick transport off your list of things to do, but in reality those plane journeys are just the start. Once you're in a country you're going to need to figure out the best way to get around using its local transport, whether you want to travel the east coast of Australia, explore the city of Bangkok or make your way from one Indian state to another.
In this section we've got tons of advice on how to do just that, so have a browse through and pick up all our tips and advice on how to get around as a backpacker.
Travelling - getting on planes, trains, and automobiles - can be stressful, but it doesn't have to be. Here are our tips for staying chill when you travel.
---
A road trip is a classic way of travelling around the world, but getting the details right is important. Here's our expert road trip advice.
---
A road trip in the USA is just about one of the coolest things you can ever do, so we've put together the best routes you can take on four wheels.
---
Our friends over at Busabout have been chatting to some of their happy customers about their recent trips, and we thought we share the answers.
---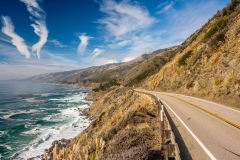 Every traveller dreams of hitting the open road, so we've put together a quick list of the best road trips in the world that you can take this summer.
---
We all envy the traveller who can sleep on a plane. What's their secret? We have a few ideas: read on to discover the key to sleeping on a flight.
---
It's considered by many to be dangerous, but hitchhiking in Iceland is part of the culture, and a perfect way to see this amazing country.
---
9,258km, 28 days, three countries, 10 time zones and five overnight stops. The Trans-Siberian Railway is an epic journey like no other.
---
You might think overlanding as part of a group goes against the rules of solo backpacking. Here's why you should consider revising that opinion.
---
Quick read: long haul flights can be a nightmare, so imagine taking the longest nonstop flight in the world. Here are the facts you need to know.