A road trip is a classic way of travelling around the world, but getting the details right is important. Here's our expert road trip advice.
A road trip in the USA is just about one of the coolest things you can ever do, so we've put together the best routes you can take on four wheels.
Our friends over at Busabout have been chatting to some of their happy customers about their recent trips, and we thought we share the answers.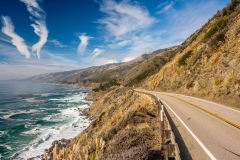 Every traveller dreams of hitting the open road, so we've put together a quick list of the best road trips in the world that you can take this summer.
It's considered by many to be dangerous, but hitchhiking in Iceland is part of the culture, and a perfect way to see this amazing country.
We caught up with Ali Clabburn, the founder of the car-sharing service liftshare.com, and he spoke to us about his inspiration behind the idea and how backpackers can use it to save cash!
A USA road trip tops a whole lot of bucket lists - if you're serious about ticking it off check out the Pacific Coast Highway route from San Francisco to San Diego.
Gapyear.com travelled around the North Island to check out the Kiwi Experience. Here's what you can expect if you ride the legendary hop on hop off bus.
Road trippin' the States is one of those iconic trips; everyone should do it. That's why Pete Churchill has told us all about his trip driving up the West Coast of the USA.
Hitchhiking is a cheap way to travel, a lot of fun, and a great way to meet people, but it can be dangerous too. This is a comprehensive guide to hitchhiking.