Travelling - getting on planes, trains, and automobiles - can be stressful, but it doesn't have to be. Here are our tips for staying chill when you travel.
Public transport is vital to any successful gap year, but some countries follow different rules to what you're used to. Here's a worldwide guide to public transport etiquette.
When US Highway 66 was completed in 1926, the minds behind it probably didn't realise that they had created a future novelty goldmine for avid roadtripper tourists.
A Brief Visual History of Travel: gapyear.com presents the epic journey of the human race, from the plains of Africa to the beckoning universe, and beyond.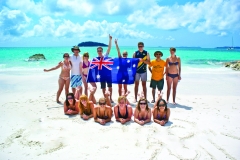 If you've spent your life savings on flights to the other side of the world, chances are you'll want to make the most of your travelling experience. Read this to find out how.
India is probably the most fascinating, invigorating and bamboozling country in the world, and everyone should endeavor to visit at least once. When you do go, watch out for these scams.
New Zealand is a country filled with glaciers and beaches, amazing cities, and striking national parks. This guide shows all the different ways New Zealand can be discovered.
From saving money to avoiding throngs of people to simply having a much more enjoyable journey, find out why this traveller will always opt for thumbing a ride over paying for one.
This article is jam-packed with brilliant and really useful advice on firstly how to get into Russia (not as easy as you might expect) and secondly on how to travel around the country once inside.
Vicky took a four-month trip around Europe visiting festivals and working her way across the continent. Here she shares her tips and tricks to help you do the same.