Articles to Inspire You to Travel
Perhaps unsurprisingly, here at gapyear.com we all firmly believe taking some time out to explore the world is one of the greatest things you could ever do. You'll learn about new cultures, experience adventures that you'll tell your grandkids about and your general confidence will rocket.
In this section you'll find a bunch of awesome articles, wicked videos and stunning photos which are all geared towards inspiring you to make that life-changing leap of faith. We have top recommendations for things to see and do in amazing locations all over the world, anecdotes from people who have been there and done it and even suggestions for inspirational TV programmes and movies to watch before you go.
Once you've decided to take a gap year everything else will begin to fall into place. If you have no money you'll begin to save, if you have no idea where to go you'll begin to research, but before you can do any of that you have to make the fundamental decision to take a gap year.
If you're planning a trip to Indonesia, you're probably going to Bali. But with over 17,000 islands, there's bound to be a few places that are better.
---
A road trip in the USA is just about one of the coolest things you can ever do, so we've put together the best routes you can take on four wheels.
---
If you want to know what travel is really like, you need to see through the travel myths that fill social media. We've debunked the most common offenders.
---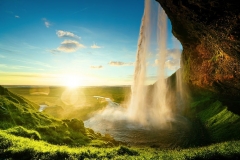 Many people only see Iceland as a winter destination (the clue's in the name), but it's just as magical if you visit in the warmer summer months.
---
Backpackers love New Zealand for its amazing landscapes, extreme sports, and those landscapes again. But don't forget all the weird things!
---
The Korean demilitarised zone is the potential front line for a new World War. This is what it was like to visit as a tourist from the South Korean side.
---
Many travellers visit Brazil's big cities - Rio and Sao Paulo - and miss out on its less bustling, more beautiful spots like Paraty and Ilha Grande.
---
April is a brilliant time to travel. Spring has arrived, and whether it's for a weekend or a longer trip, we have plenty of ideas for where to go.
---
Travelling as a couple can be a wonderful way to see the world, but it can also put strain on your relationship. Here are some tips on how to survive.
---
Namibia is a well-known destination for thrill seekers, but it's also home to incredible wildlife, landscapes and African culture. Don't miss out!