Articles to Inspire You to Travel
Perhaps unsurprisingly, here at gapyear.com we all firmly believe taking some time out to explore the world is one of the greatest things you could ever do. You'll learn about new cultures, experience adventures that you'll tell your grandkids about and your general confidence will rocket.
In this section you'll find a bunch of awesome articles, wicked videos and stunning photos which are all geared towards inspiring you to make that life-changing leap of faith. We have top recommendations for things to see and do in amazing locations all over the world, anecdotes from people who have been there and done it and even suggestions for inspirational TV programmes and movies to watch before you go.
Once you've decided to take a gap year everything else will begin to fall into place. If you have no money you'll begin to save, if you have no idea where to go you'll begin to research, but before you can do any of that you have to make the fundamental decision to take a gap year.
Once you've summoned the courage to take a solo trip, you need to decide where to go! Here are some great solo backpacking destinations.
---
There's so much in Brazil to explore that you'll always feel like you've missed something. One place you shouldn't miss is Morro De Sao Paulo.
---
Our American intern has been here for about a month, and she's sharing some things she's learned through travelling so far.
---
Every backpacker knows all the famous travel quotes off by heart. But do they really get to the heart of why we travel? We think these quotes do a better job.
---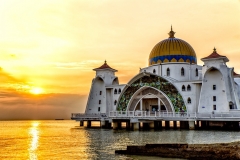 Malaysia isn't as popular with gap year travellers as its South East Asian neighbours, despite the incredible things it has to offer backpackers.
---
If you're a sci-fi fan/a bit of a super geek then why not plan your gap year around legendary nerdy destinations? Here are our top nerdy travel spots.
---
You probably know Chengdu, China as the home of pandas, but there's so much more to do. Here's our guide to must-see stuff in Chengdu.
---
In among the 7,000 islands and four seas that make up the Philippines, there are a hundreds of places you should visit. We've picked seven.
---
If you're planning a trip to Indonesia, you're probably going to Bali. But with over 17,000 islands, there's bound to be a few places that are better.
---
A road trip in the USA is just about one of the coolest things you can ever do, so we've put together the best routes you can take on four wheels.