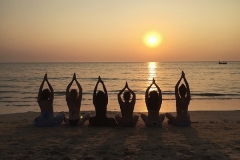 Travel is all about broadening your horizons, and teaching yoga in India turned out to be an amazing way to discover the country and get in touch with an unknown spirituality.
In the 90s Goa was well known for the all night raves and hedonistic lifestyles favoured by the ex pats. Sarah recently went back to see how much the area had changed...
Gapper Zoe went to India in search of adventure and a real culture shock - with trains, camels, kids, Holi Festival and the Taj Mahal she got plenty of both.