Orangutans are one of the most amazing animals to encounter in the world, making Borneo a travel and conservation hotspot. Here's one account of meeting orangutans.
The English have a bit of an obsession with dragons, and one man decided to go in search of them for real, taking him all the way to a trek through Komodo National Park.
Norway has some of the most stunning scenery in the world, and one of the best ways to see it is by train. Let us take you on a journey into the Norwegian wilds.
Visit Cambodia and Thailand for temples, treasures, canals, the chaos of Bangkok, and the stunning beauty of Cambodia. We honestly don't understand what you're waiting for.
Have you ever experienced a hurricane? If you did, you probably didn't go outside. That's a lesson our writer really should have learned when a hurricane hit Newfoundland.
Travellers always want to find something new, but few stray as far north as the Arctic. Here's a short account of making the perilous journey with a bad hangover.
We take you off road on a wild ride through the sprawling Sinai desert in Egypt. Prepare for a rambling adventure with quad bikes, camels, stargazing, and tea.
Canada's northern wilds are full of incredible wildlife, and none more fascinating and deadly than bears. One man recounts a harrowing trip to see them with his own eyes.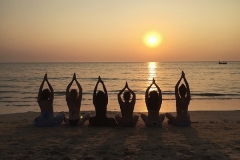 Travel is all about broadening your horizons, and teaching yoga in India turned out to be an amazing way to discover the country and get in touch with an unknown spirituality.
Burma is the next big gap year destination, and from this brilliant account of a two week backpacking adventure through the country, you'll probably soon understand why.