This backpacker recently visited Alaska, and in this article tells us about his initial impressions of the beautiful scenery and fascinating wildlife. This is a place everyone should visit.
The Japanese are often known as a reserved people, but Vicki Holman saw an alternative, more gregarious side to them while she was living and working in the country as a teaching assistant.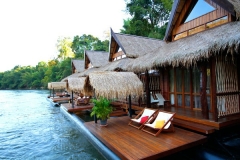 Floating bedrooms and beach bungalows. Accommodation is a huge part of any trip, and Thailand offers some fun, quirky, and bizarre choices to rest your head for the night.
Travelling the world is usually an eye-opening experiencing for many, but for Hannah Thompson it was the street children of Cambodia who stayed with her the most.
When she travelled to Greenland to study bumblebees, Rosie Wilson didn't just fall in love with them, but also the beautiful, forbidding landscapes of the Arctic they call home.
Seeing a total solar eclipse can be a once in a lifetime event, but for many it was a cause of fear. Here are some of the direst superstitions ever believed about them.
South Korea is often overlooked on an Asian itinerary, which is a terrible mistake. It's a haven of TEFL teaching, technology, friendly faces, and weirdly delicious cuisine.
A story about trying to find the world's smallest drawbridge during a tropical storm in Bermuda - as you do. How did Christina get on? Did she make it? Click through to find out...
There's nothing nicer than a massage, right? Except that it's a stranger rubbing down you're naked body. Where do you look? What do you say? We have some answers.
Iceland is one of the most beautiful gap year destinations on the planet, and on its black shores it became the first place I've ever visited to give me a bona fide travel epiphany.