Articles about Epic Journeys
There is something intrinsically satisfying about making an epic journey. It is travel in its purest form, movement for movement's sake. The sights along the way are important, they give the whole thing some context, but the real reward is just making it from A to B. Or A to Z, rather.
People have been making epic journeys for thousands of years and the trend is still as popular as ever, as evidenced by all the articles in this section, which detail various adventures, whether it's driving from London to Brighton in a tuk tuk or climbing the highest mountain in the world.
The options are simply infinite. All you have to do is find two points on a map and connect them, though obviously some parts of the world are more popular than others. Hiking the Inca Trail, for example, is always going to be more attractive than cycling through Antarctica, though admittedly the latter would be far more impressive! The world is your oyster.
Highpointing in the USA means climbing to the highest point of every state. Here's what it's like to take on such an epic adventure.
---
9,258km, 28 days, three countries, 10 time zones and five overnight stops. The Trans-Siberian Railway is an epic journey like no other.
---
You might think overlanding as part of a group goes against the rules of solo backpacking. Here's why you should consider revising that opinion.
---
The Annapurna Base Camp trek isn't as well-known as Everest, but offers an amazing journey through the Himalayas. Find out how to do it.
---
Gap year travel expert Sarah Wroblewska has just returned from a incredible safari in the Serengeti, and here tells us all about it!
---
Travelling the East Coast of Australia in two weeks is a bit of a stretch but definitely doable for the highlights, as you can see here!
---
The English have a bit of an obsession with dragons, and one man decided to go in search of them for real, taking him all the way to a trek through Komodo National Park.
---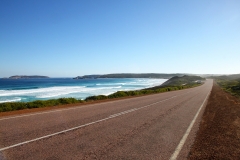 The Great Ocean Road is considered one of the greatest road trips in the world. Here are some of the absolutely incredible stops along the way you shouldn't miss.
---
Travellers always want to find something new, but few stray as far north as the Arctic. Here's a short account of making the perilous journey with a bad hangover.
---
Tierra del Fuego at the bottom of South America is one of the most breathtaking places on Earth. Here some things you absolutely need to know before you go there.