Advice on Sport and Travel
Super sporty gappers are sure to love the opportunity to be outside and up and about on their gap year. Anyone interested in volunteering can sign up to the many sports coaching programmes around and help kids in developing countries become more confident through sport. Gap years are also a perfect time to complete those once in a lifetime achievements – scaling Mount Everest or Kilimanjaro for example.
Extreme sports lovers will of course have a field day on their gap year. Most head to New Zealand or Australia and skydive, paraglide, base jump or bungee jump off whatever they can find. Scuba diving is a hugely popular sport for gappers, and have you ever tried sand boarding in Peru? Check out Gaz Bourne's article below for the lowdown.
When you go skiing it's probably in one of the familiar European destinations. Why not be adventurous and go a little further afield?
---
South Africa is a famous destination for extreme activities and adventure seekers. Here are just a few things to get your adrenaline pumping.
---
Skiing and snowboarding doesn't always need snow. Take to these sandy or stony destinations and all you need is skis, sticks, and suntan lotion.
---
Learning to surf is one of the coolest things you can do. You look awesome, keep fit, and hang around on beaches. These are the best places to do it.
---
If you've done the obligatory cycle trip of Barcelona and now want to get out the city and really get some speed up, check these routes out.
---
Australia's Gold Coast is renowned for its spotless, surf-ridden beaches, but which ones top the list and gain must-see status? These are the Gold Coast's best beaches.
---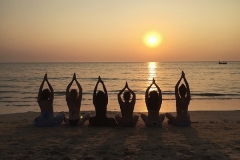 Travel is all about broadening your horizons, and teaching yoga in India turned out to be an amazing way to discover the country and get in touch with an unknown spirituality.
---
The Africa Cup of Nations 2015 has started, offering a display of the world's most colourful football fans, and reminding everyone of the good things Africa has to offer.
---
Sandboarding, for the uninitiated, takes two forms. You can either stand strapped to a snowboard, or lie on a piece of plywood and go down head first. Either are amazing fun.
---
Our Pete, the lucky devil, recently joined the Snoworks Gap Instructor course in the amazing Tignes, France, and reports back here to let us know how he got on.