Bali is one of the best sunset destinations in the world. We've put together an expert guide to the top spots to view Bali's amazing sunsets.
Many people believe that leprosy is an extinct illness, but it still affects people around the world. This is what it's like to visit a leprosy colony in India.
China is full of strange natural sights, among them the Bamboo Sea, a vast forest of bamboo plants, deserted outside of peak tourist season.
Nepal is a dream backpacking destination, and these incredible images of its people and places show why. This is true travel inspiration.
Using the toilet in China can be a troubling experience, especially when someone decides to do their business on a busy subway train.
9,258km, 28 days, three countries, 10 time zones and five overnight stops. The Trans-Siberian Railway is an epic journey like no other.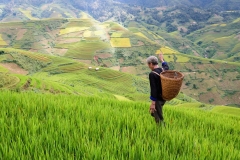 Ubud is the heart and soul of Bali, and this guide is guaranteed to help guide you through it, whatever you like to do while you're travelling.
Scuba diving is one of the best things you'll ever do, but getting PADI open water certified can be daunting. Here's what you should expect.
Kerala is the place to be in India if you don't want crowds and craziness. Instead it's all beaches, great food, amazing wildlife, and cheap prices.
Ho Chi Minh is one of the most frantic, exciting and overwhelming cities in Asia: read this advice to help you settle in as a new arrival.