No matter how long you're in Australia, you need to make the most of it. That means doing as many of these 'once in a lifetime' experiences as possible.
From hooning around Fraser Island in a 4x4 to playing the digeridoo to swimming under beautiful waterfalls, this is the ultimate Aussie bucket list!
Many people visit Australia without seeing the Great Barrier Reef, even though snorkeling and diving there can be the experience of a lifetime.
Here is everything you need to know in one minute about Australia's GIGANTIC Uluru, the monolithic heart of the otherworldly Aussie Outback.
Australia is famous for being home to many creatures that can kill you. But it also has plenty of amazing, docile, wildlife. Here's how to see it.
For many of you, Sydney is the first stop on a backpacking adventure. Don't take it for granted! Here are the sights & experiences you can't miss.
Australia is the most popular gap year destination in the world, but a lot of backpackers never make it to the outback. Here's why you should.
Travelling the East Coast of Australia in two weeks is a bit of a stretch but definitely doable for the highlights, as you can see here!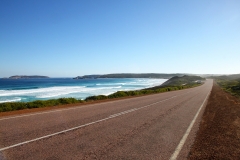 The Great Ocean Road is considered one of the greatest road trips in the world. Here are some of the absolutely incredible stops along the way you shouldn't miss.
Australia's least-visited state remains something of a hidden gem in the up-and-coming tourist industry Down Under. Here are ten reasons you should visit Tasmania.