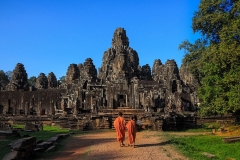 Cambodia is home to temples, rain forest, beaches, delicious food and so much more. No wonder it's a must-visit! Here the things you shouldn't miss.
Find out about food and drink in Cambodia, including noodles for breakfast, coconut curries, and locally brewed liquor.
Vietnam and Cambodia are popular gap year destinations, but few people travel across them by push bike. Becky Khalil did exactly that.
Visit Cambodia and Thailand for temples, treasures, canals, the chaos of Bangkok, and the stunning beauty of Cambodia. We honestly don't understand what you're waiting for.
Travelling the world is usually an eye-opening experiencing for many, but for Hannah Thompson it was the street children of Cambodia who stayed with her the most.
Kate Scott travelled to Cambodia expecting to find a nation of poor people in shacks. By working as a teacher there she soon found that there's a lot more to this country.
Saunders and Ollie are showing us what it's really like to go backpacking for the first time. Here they are planning their route through Indochina - any suggestions for them?
Cambodia's beautiful temples and astonishing history are just a few of the sights making this South East Asian country a prime backpacker hotspot, says Anna.
The cheaper the gap year destination the longer you can go for - everyone wins! Here are a few of the cheapest choices in the world.
A harrowing report from Joe Bloomfield on the first time he visited Cambodia's Killing Fields where thousands of innocent victims were slayed in the 1970s.