Barcelona is one of the best cities in Europe to visit on a backpacker budget. Here are some tips for exploring Barcelona on the cheap.
Paris is a beautiful, unmissable city, but it can also be expensive. We've put together some advice to seeing Paris on even the tightest budget.
Montenegro often gets overlooked on a European trip thanks to its more famous neighbours, but we think that's a real mistake. Here's why.
Budapest is a cheap city for any traveller, but that can make it easy to get carried away. Here's how to see it while saving as much as possible.
Berlin is the greenest city in Europe, with incredible green spaces and environmentally friendly infrastructure. Here's how to plan a green visit.
Our American intern has been here for about a month, and she's sharing some things she's learned through travelling so far.
Our American intern is continuing to learn about getting around London using public transit. Here's her take on Tube etiquette!
We've got a new American intern in the office, who's seeing London for the first time, so we asked her to write about her experiences!
Can you visit Porto in just two days? We think you can, and this city guide to things to do in Porto will prove it without any doubt. Get going!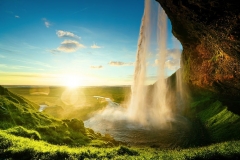 Many people only see Iceland as a winter destination (the clue's in the name), but it's just as magical if you visit in the warmer summer months.