If you're planning a trip to Indonesia, you're probably going to Bali. But with over 17,000 islands, there's bound to be a few places that are better.
Bali is one of the best sunset destinations in the world. We've put together an expert guide to the top spots to view Bali's amazing sunsets.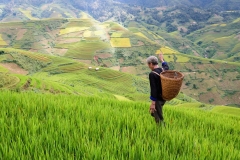 Ubud is the heart and soul of Bali, and this guide is guaranteed to help guide you through it, whatever you like to do while you're travelling.
Backpackers love Bali. It's an easy destination to visit, lots of cool things to do, beautiful beaches, a spiritual vibe and awesome tropical surroundings.
The English have a bit of an obsession with dragons, and one man decided to go in search of them for real, taking him all the way to a trek through Komodo National Park.
There are so many things to do in Java, yet it's not a popular stop on the backpacking trails. Here's a guide to help you make the most of this beautiful island in Indonesia.
The Gili Islands are a great gap year destination, whether you want to party hard or relax on beautiful beaches - or both! Here's a backpacking guide to the Gilis.
Sumatra's Gunung Leuser National Park is home to some of the most amazing wildlife in the world, including wild orangutans. Read about trekking through this fascinating place.
Many associate the Indonesian island of Bali simply with sun, sand and parties, but look beyond the tourist facade and you'll see a darker side, particularly in the form of stray dogs...
Visiting Indonesia? Rebecca explains why it's worth leaving the shores of Bali and heading a little bit further to find perfect paradise on the Gili Islands.