Landing in Bangkok for the first time can be an overwhelming experience. So we've put together a quick list of everything you should do first.
Thailand is a destination for many first-time travellers, so common myths can cause a lot of worry. We're here to clear them all up for you.
Songkran Water Festival in Thailand is a wet and wild event that might feel overwhelming if you're not prepared. Here are the things you need to know.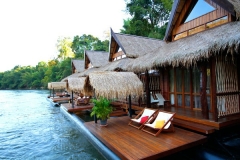 Floating bedrooms and beach bungalows. Accommodation is a huge part of any trip, and Thailand offers some fun, quirky, and bizarre choices to rest your head for the night.
Rebecca Welsh thought she might be too young to volunteer to build classrooms in Thailand, but she did it anyway. She found that the experience changed her perspective on life.
It's been 10 years since the terrible Asian tsunami that killed thousands. Lucy Kennedy remembers her visit to Thailand in the months following the disaster.
The Phuket Vegetarian Festival sounds harmless but really it is one of the most, goriest, stomach-churning, shocking festivals to take place on Planet Earth. Sick bags at the ready!
Lady boys shows, Pad Thai, elephants and the Khao San Road nightlife, with so many things to do in Thailand you'll need some direction on where to start...
After a chance meeting with a friend Sarah ended up teaching English to the women of Chiang Mai behind bars. And the women were nothing like you'd imagine.
Venture away from the bustle of Bangkok, and the lure of the beaches in the south and you can find culture and excitement in Thailand's northern city of Chiang Mai.