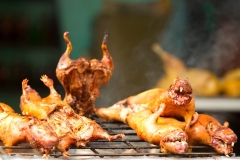 Trying new food when travelling is a big part of the experience, so if you're in South America why not try something really, really weird.
Travelling the world alone as a girl can be incredibly intimidating. Here's what one traveller learned from her solo experiences on the road.
Saving money to travel on a student budget can seem impossible, but just a few small changes could add up to more than you might think.
The Korean demilitarised zone is the potential front line for a new World War. This is what it was like to visit as a tourist from the South Korean side.
Many backpackers never want to come home, so why not make your home in another country? Here's some practical advice on how to move abroad.
You're probably vaguely aware that the Faroe Islands exist, but a lot of travellers have no idea just how close they are to the UK.
Many travellers visit Brazil's big cities - Rio and Sao Paulo - and miss out on its less bustling, more beautiful spots like Paraty and Ilha Grande.
April is a brilliant time to travel. Spring has arrived, and whether it's for a weekend or a longer trip, we have plenty of ideas for where to go.
Our friends over at Busabout have been chatting to some of their happy customers about their recent trips, and we thought we share the answers.
Nothing matches the excitement of the first time you travel, but at some point you're bound to embarrass yourself. Don't worry: we've all been there.