For all the shutterbugs out there, this article is bursting at the seams with photography inspiration around the world, from the rainforests of Australia to the sky-scraping cities of the USA.
We caught up with Ali Clabburn, the founder of the car-sharing service liftshare.com, and he spoke to us about his inspiration behind the idea and how backpackers can use it to save cash!
Tey Bannerman's fascinating photo essay encapsulates the amazing sights, the frosty climate, and the quriky Icelandic culture. Prepare yourself for some serious travel envy.
These photos show the Bonfire Night celebrations in Lewes, a small market town in East Sussex. Seven bonfire societies collectively create this pyromaniac extravaganza.
Milton Keynes has grown to more than just London's commuting town. It now has roundabouts, concrete cows, and some bewildering local news stories. Welcome to my home town.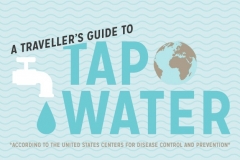 In the UK, where you could probably get away with drinking water from a toilet bowl, it can be all too easy to forget that not all countries can claim to have such clean tap water.
October in Spain is all about balance, focus, and feeling tense. The Concurs De Castell Human Pyramid festival takes place every two years, and it is back on for 2014.
The Phuket Vegetarian Festival sounds harmless but really it is one of the most, goriest, stomach-churning, shocking festivals to take place on Planet Earth. Sick bags at the ready!