Europe is made up of over 50 different countries, so there are plenty of jobs to choose from! If you're aged between 18-30 and from a country outside the European Union (EU) then you can apply for a working holiday visa (WHV) which allows you to live and work in any country in the EU for up to a year. Your WHV allows you to work in any job, from working in a bar in Amsterdam to leading a Segway tour in Berlin.
Other popular jobs in the Europe include working as a ski instructor in France and as one of Santa's little helpers in Finland. Failing that, you can always find work in a bar!
Jobs in Europe are a plenty, so there is sure to be something that interests you. If you're in a position where you can learn the local language you could open yourself up to even more job opportunities. You'll take more out of your gap year experience working in Europe and you'll be likely to stay on your gap year for longer, funding it along the way. Our product listings below are a great way to get you started.
Countries:
France
,
Spain
,
United Kingdom
We are currently recruiting passionate EFL teachers and French speakers to deliver our various Language products and bring Language to life in 2015.
Countries:
France
,
Spain
,
United Kingdom
Make a change in 2015 and kick start your career in Catering!
Duration:
up to 12 months
Countries:
Spain
Application period open now (early candidates will ensure a placement)! Receive a monthly allowance, a Spanish course, TEFL certified training, and the opportunity to explore a country.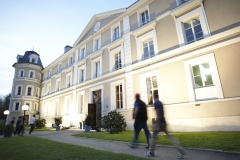 Countries:
France
,
Spain
,
United Kingdom
Amazing Catering opportunities in a stunning northern French setting.
Duration:
from 4 weeks
Countries:
United Kingdom
Want a great gap year job with free accommodation and amazing earnings potential? Want to raise funds for a cause that truly saves lives? Look no further! Become one of our fundraisers!
Duration:
5 months
Countries:
Austria
,
France
,
Italy
We are actively seeking Commis Chefs to come work in our superb chalet hotels located in top European ski resorts.
Duration:
from 4 weeks
Countries:
United Kingdom
Looking for a way to fund your gap year travels? Need a job with accommodation? Want to do something fun and ethical? Join one of our fundraising teams!
Countries:
France
,
Spain
,
United Kingdom
Introduce our guests to the basics of sailing in the UK, Southern France and Spain. Excellent RYA training and development opportunities.
Duration:
from 4 months
Countries:
Ireland
,
United Kingdom
Immerse yourself in the banter of a traditional British pub on our UK working holiday pub placement, providing you with free accommodation and a full-time income to splurge on your travels.
This is a fantastic opportunity to work and live in the Ardeche region of France for this summer!