Making for the Hills
Making for the Hills
Wednesday 22nd – Tuesday 28th
If you happen to have been asleep for much of the seven hour bus journey between Amritsar and Dharamsala, the change which finally meets your groggy eyes is quite staggering. Dirty, crowded (and, in our case, heavily flooded) streets and wobbly buildings are replaced by rolling hills climbing into the distance, covered with mist and small, clinging villages, every spare inch awash with lush greenery.
From Dharamsala you take a small bus or taxi up the excessively hairpinned road which winds up a further 10km and finally deposits you in heaven – or, rather, McLeod Ganj, otherwise known as Little Lhasa, a tiny town which covers barely a kilometre but is home to the Dalai Lama and thousands of his exiled subjects. Of course, it's a huge tourist draw and consequently filled with the usual assortment of eating, drinking, booking and buying facilities – although, strangely, this hardly detracts from its sense of spiritual mysticism. On the contrary, the coffee shops and craft stalls almost feel like they were created to give the resident Tibetans an opportunity to stand smilingly, all but open-armed, as if to say 'Come in, come in, we've been expecting you! Welcome to our little country – isn't it wonderful?'.
And that's exactly what it feels like – a little region all of its own, a million miles from India, where prayer flags, mist and momos suddenly swoop back into the mix, and the people become more cheerful, narrower-eyed and fairer-skinned. Luke and I had been wandering around the cosy, lantern-lit streets for all of twenty minutes before he turned to me and said, quite matter-of-factly, 'Alright, let's buy a house here'.
We visited the marvellously understated Tsuglagkhang temple complex where the Dalai Lama resides (it has the homely, uncommercial ambience of a local church hall), watched monkeys playing on our hotel windowsill and consumed as many momos as three days would allow, then took a bus to the neighbouring state's capital, Chandigarh. Our next stop was colonial hill station Shimla, easily reached by an eight hour direct bus from Dharamsala – prompting you to no doubt wonder why we did not avail ourselves of it. The answer lies in the neat little carriages and old-world charm of Shimla's famous 'Toy Train', a hundred year-old engineering triumph which departs from just outside Chandigarh, climbing 96km of narrow, winding track through misty forest and spectacular views.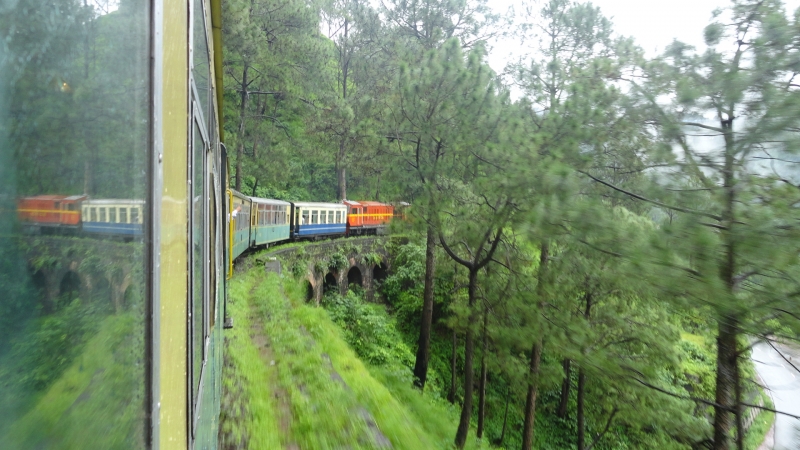 Shimla is a surprising place. Apparently little more than a small, lofty town nestled on a leafy hilltop, it was once the seat from which 1/5th of the world was governed by British viceroys when well-to-do Delhi ex-pats upped sticks every summer and headed for cooler climes – and now, it is no less than the capital of its state, Himachal Pradesh.
And thanks to its colonial past, Shimla is as surreal as it is surprising, with its quaint, English-village architecture bizarrely encircled by all the trimmings of modern India and a baffling number of belligerent resident monkeys. Its two main streets, The Mall and The Ridge, begin at a small square named Scandal Point then run westwards, The Ridge becoming a wide, elongated plaza with views across the Himalayas (as far as Tibet on a clear day) and culminating at Christ Church – a structure which would look quite at home in any Oxfordshire hamlet – while The Mall snakes along below, lined on each side with a jumble of Western outlets and Indian knick-knack shops, every corner all but promising Woolworths.
Mock Tudor homes dot the streets, while everything from railings to roofs bear the clear stamp of English Renaissance – nowhere so proudly as the Viceregal Lodge, an austere Victorian building with rounded turrets and grey slate roofs where thirteen viceroys governed in their turn and, on the eve of independence, the borders of a new India were drawn on a round mahogany table in a lavish morning room.
Our three-day stay was fantastically picturesque and almost uneventful. We checked into a hotel perched above the church – the room so damp it was twenty minutes before the television had dried out enough to accompany its sound with a picture – and headed to the Indian Coffee House, a legendary institution with ancient decor and neatly uniformed waiters who conjured up suspiciously speedy yet delicious coffee and snacks.
Next was an otherwise pleasant hike to the Lodge (where a monkey leapt onto my back without warning, whereupon I naturally assumed I was being mugged and shrieked the place down – a low point for Gemma/monkey relations), then a subsequently cautious trip to Jakhu Temple – a shrine dedicated to Hanuman (the Hindu monkey god) and thus populated by hundreds of mischievous chimps – where we gratefully discovered that a tactfully employed walking stick works wonders when it comes to keeping rowdy primates at bay.
Sufficed to say, wonderful as Shimla is, the departure of our bus to the relaxing world-yoga-capital Rishikesh came not a monkey-less moment too soon.