Cape Town, South Africa
Hello Everyone!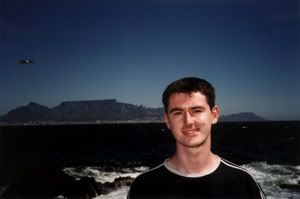 I arrived on Monday (19th) stayed at the Ashanti Lodge which has been voted the best hostel in Africa, it's a really good place and the view from the roof terrace is amazing – table mountain. I had no trouble sleeping in the dorm at all. I shared the dorm with Scots, English, Aussies, Germans, and Americans throughout the week.
The three main things I wanted to do when I was here was go to the top of Table Mountain, Go to Robben Island, and go to the Cape of Good Hope.
I did a tour of the Cape Peninsula on Wednesday, I was with 7 other people doing the tour and we all had a good laugh during the day, On the way down to Cape of good hope, we stopped off at a place called Hoef Bay, to see the seals, then we drove into the Cape Of Good Hope Nature Reserve, there was a trailer on the back of the bus with bikes, so when we got to the park we got out of the bus and cycled 10 km, it was a really good part of the trip I thought, but the tour guide did lie just slightly by saying 'its mostly downhill' – No way! It was more like mostly uphill! We stopped for a picnic lunch, got chatting to an English guy called Charles and an Aussie guy called Andrew about Football, found out they were both Liverpool Fans, so we had a good chat about that for a while!
Then made our way to Cape Point, had to be careful of the baboons here, as we saw a baboon swipe a bottle of water off a woman, it was pretty funny, but the woman didn't think so! So we walked up to cape point, it was worth it, was a great view.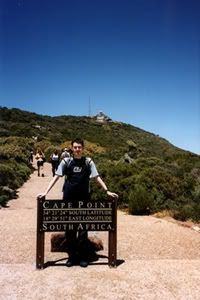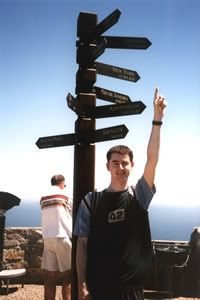 Then we went and climbed up the Cape of Good Hope, this was a bit of a trek, but pleased I did it. Then when walking down we all battled to get our photos taken next to the cape of good hope sign, as we got there though 2 bus loads of Japanese tourists arrived, I thought I would have to move all my future flights forward a few months as it looked like we would be waiting for a while, but we kind of pushed in the queue and Louise our guide had 8 cameras around her neck trying to take our photos, while at the same time the Japanese group are booing us because there are 8 photos to take! It was so funny!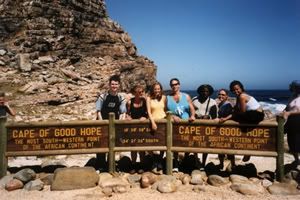 On the way back to Cape Town, we stopped off at Simon's Town to see the African Penguins, They were cool, got some great photos, hope they turn out ok!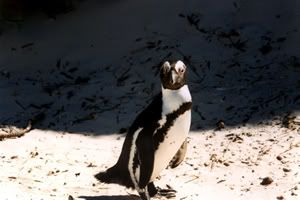 So was a really good day!
On Friday I decided to go straight to the Waterfront to try and see Robben Island.
Got there about 11:30am, booked my ticket for the ferry, it wasn't leaving until 2:30pm so I had a bit of a wait! The waterfront can keep you entertained for a while though, so it wasn't that bad.
2:30pm came and on the ferry, took about 30 minutes to get there, and then we were put on buses and driven around the island. We stopped off at one place, which has the most superb view of Cape Town with Table Mountain in the background. I am looking forward to getting those photos back!
Then we were taken to the Prison, I didn't really think it was appropriate to take many photos here, I had a strange feeling inside me, I can't explain it. Our guide around the prison was a former prisoner, so it was really interesting to hear what it was like from someone who had actually experienced it. We got rushed through the section where Nelson Mandela's cell was, which was a bit of a disappointment, we just walked down the corridor really, couldn't stop due to time running out.
But I'm glad I went, was a 'good' day.
I went up Table Mountain on Saturday with a couple of people from the hostel, I was worried I wouldn't get up there before I left as the last couple of days, it has either been too windy for the cable car, or the cloud cover reduced visibility. Anyway conditions were perfect on Saturday afternoon, so we went up there, cable car revolves, which is very strange, my ears 'popped' as well which was freaky. We walked around the top of Table Mountain for about an hour and a half, it was superb, no actually; there is no word to describe how good the view is!!! We ended up staying up there for about another hour having a beer and chatting, was weird being above some of the cloud, definitely the highlight of my trip so far.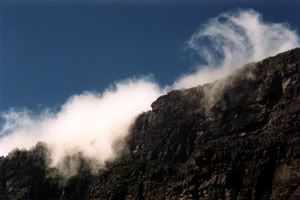 Other highlights of my trip, the famous "Long Street' – full of weird 'characters', Green Square Market – lots of culture there!
In terms of being alone, it seriously hasn't bothered me yet, met plenty of people around the hostel, on tours, etc, so I'm quite happy. Even met a English girl at the hostel who will be in Sydney around the same time as me, so going to meet up for a drink or something there.
So I have had a really good first week on my trip, really enjoyed it. I'm so pleased I came to a place like Cape Town, ok, its quite westernised, but there are plenty of signs of the other side of Africa.
It was also very interesting to be in the minority – only 11% of people in are white. I noticed how much you seem to stand out – other people at the hostel have noticed it too. Even one of the MANY, MANY, MANY, MANY beggars I have come across this week called me by saying 'Hey, White Man!' – Which I thought was quite funny, still laughing about it now!
Anyway tomorrow I leave Cape Town on the Baz Bus to head to Mossel Bay (for 3 days) which is a small town at the start of what's known as the garden route, then to Knysna (4 days), then Plettenburg Bay (3 Days) ending my visit to the garden route and basically the end of the South Africa leg of my trip as I then head to Port Elizabeth to catch my next flight, well 3 flights actually, to Perth, Australia!
Next update: Early Feb
Bye!!!!
Terry