The Garden Route, South Africa
Hello everyone!
The South Africa leg of my trip is nearly at an end, its going so fast! 3 weeks already! Since my last update from Cape Town, I have been travelling 'overland' towards Port Elizabeth, stopping off at a few towns along the way. All these towns are in an area known as 'The Garden Route' – known locally as 'combining the best of mother nature with the best of first world creature comforts' – see, this is even educational!
Leaving Cape Town almost 2 weeks ago, I hopped on the Baz Bus and my first stop on the garden route was 'Mossel Bay', I'm sure there are some people that would like the place, but I didn't think much of it to be honest – not much to do there! Also it didn't help getting to the hostel and finding out I was only 1 of 2 people staying there (each of us had a 8 bed dorm to ourselves), the other guy was a bit of a weirdo, he used to play pool on his own, and when I decided to have a game with him, I was 100% sure he was a weirdo as he used to make strange noises (like Donald Duck) when playing, also when the white ball went in the pocket, he always used to say "Goodness Gracious Great Balls Of Fire" – erm, ok!!! – I was laughing inside so much! Anyway my second day there my prayers were answered and I was thanking the lord as five new people turned up, I would have gone crazy otherwise!
After two days in 'Sleepy Mossel Bay' I finally escaped on the bus, and moved to the popular town of 'Knysna', set near a lagoon, very nice place actually, good waterfront area. It rained for the first time on my trip here (the same day I heard it was snowing back home!). I didn't think much of the hostel here, but the good bunch of people staying there helped improve things! The highlight of Knysna was getting a superb meal worth about 20 pounds back home for about £2.50! I was in Knysna for 2 days before moving on to 'Plettenburg Bay' for the weekend.
On the bus to Plettenburg Bay were a few familiar faces and they were all getting off at the same hostel as me. It was a great hostel actually; our dorm room even had a balcony area, good view of the beach – great for £5 a night! Went to the beach (Still confused that it was January and it was hot and sunny – not used to it at this time of year, well actually I'm not used to it anytime of year!). Didn't stay at the beach all day like the others as I am trying not to get burnt (some of you will know that I don't get a tan, I just get burnt!). I managed to watch the Liverpool v Everton match live which was good, pity it was 0 – 0 though! The last night in Plettenburg, we all shared food costs as we wanted to have a Braai (BBQ), we even splashed out and got steak! (So different to the usual backpacker noodle diet!), it was really nice actually! Plettenburg Bay is quite a nice place and being there with a group of people I already knew from earlier in my trip helped too. After 3 days here I moved on to 'Storms River Village'
On the way we drove over Africa's highest bridge that many people throw themselves off, as its the worlds highest bungy jump! I didn't fancy doing that (not yet anyway!) so I decided to become Tarzan for the day and swing between the trees in the Tsitsikamma Forest!! No….. really I did!! Well kind of, me and a girl that I met in Cape Town did a 'Tree Top Canopy Tour', you basically get kitted up in a harness and helmet, then get driven into the forest and you jump off platforms high in the trees and fly along steel cables between trees, it was really good, especially the longer and 'faster' wires!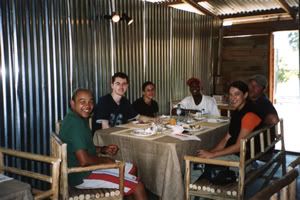 After two days here I caught the Baz Bus leaving the garden route and I arrived in Port Elizabeth late last night. The hostel is superb for R65 a night, for some reason I'm off to the Casino tonight with a few others, not sure why to be honest on the budget I'm on, oh well, plenty of loose change to get rid of I suppose! Tomorrow is my last full day in S. Africa, and I have booked to do a day safari at Addo Game Reserve, a good way to finish the first leg of my trip I reckon.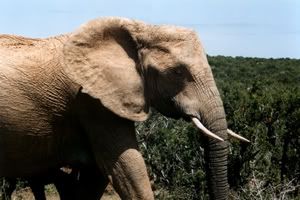 I have really enjoyed South Africa, much more than I thought I would (excluding Mossel Bay of course), and really pleased it was part of my plans.
I fly out of here on Saturday (7th Feb), next destination will 'eventually' be Perth (after 3 flights and about a day and a half of travelling….zzzzz) I am really looking forward to it (not the 3 flights part), and for those that don't know I am staying with relatives there, will be good to see them again!
Next update – will probably be when I leave Perth/arrive in Sydney so in about 2 weeks time I suppose!
Bye!
Terry