Perth, Australia
Hello Everyone,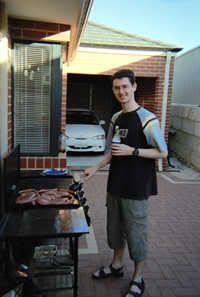 Since my last update, I have left South Africa behind me and am now in Australia! The 35 hour total journey time between Port Elizabeth and Perth included a 7 hour wait in Johannesburg Airport, along with a 2 hour delay while sitting on the plane – waiting for thunderstorms to pass! They weren't going to take any chances, especially as the South African Cricket Team were on board! With that delay, it was a very close run thing catching my 3rd and final flight, but I made it just in time! So I got to Perth as planned!
Waiting for me was my cousin Paul and his wife Siska; it was great to see them there! For those that don't know I was staying with them during my stay. Their house is amazing, Paul has a games room with a pool/snooker table, he must not play much as I always won! (Sorry Paul!)
The day after arriving I visited my Uncle's; obviously it was great to see them too! Another great house, I was VERY impressed with the cinema room! It was SUPERB!!! Golf Course at the back of the house too!
During my time in Perth I managed to do quite a lot of things – with the help of Paul and family! Paul and Siska managed to take a couple of days off work and my Aunt was always happy to take me out to places!
One of the main things I did when in Perth was a day trip with Paul to Rottnest Island which is just off the coast of Perth.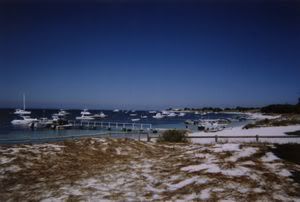 It's a 45 minute ferry ride there, and after breakfast on the island we hired bikes and went to Henrietta Rocks, this area of the island has a few shipwrecks there and when Tony was here last year he loved the place! Paul tried to call him on his mobile from here to make him jealous, but knowing it was about 3am back home I knew he wouldn't answer! Afterwards we went to the other side of the island, to a place known as 'The Basin' – which is basically a natural swimming pool! Here I attempted snorkelling for the first time, and….. I REALLY enjoyed it! It was so good! Got some great views of fish, especially one that went past my face – about 2cm away! Then a couple of hours later we headed back to Perth on the Ferry. The island is really nice, and we picked a great day to go as it was 40 degrees and perfect conditions! (The day after was overcast).
The following day, we went to Fremantle which is about 45 minutes drive from Perth. After visiting the local market, we had lunch – Fish and Chips! I had Shark!! It was really nice actually! Afterwards we paid a visit to the Maritime Museum, then to Fremantle Prison. I really enjoyed Fremantle Prison, better than Robben Island prison tour in South Africa, The tour was too rushed at Robben Island, here you weren't rushed and it was so much more informative.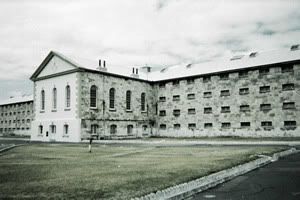 On the way back to Paul's house we stopped off at Kings Park in Perth. I really enjoyed it here; the view of the Perth skyline from here is amazing!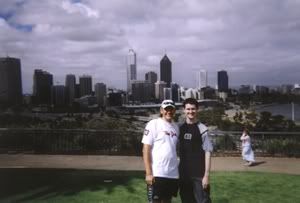 When Siska was off work, we went shopping, then I met her mum then we all went to Hilary's (similar to the Albert Dock). It was a nice place!
On Friday night I went out on Paul's birthday night out! Paul and Siska's friends were there too – they were all really nice. We went to an area of Perth called Subiaco; it was a really good night! Staying on the theme of things done in the evening, on the Wednesday – I joined Uncle Paul, Auntie Marion, Paul and Siska for a meal at a Thai restaurant, really good place! We had a great time! Afterwards Paul showed me his local pub known as 'The Bailey' – had a couple of drinks there!
The beaches in Perth are great, I went to a place called Scarboro with Uncle Paul, pretty popular beach I believe, then also on my last night in Perth, Paul and Siska took me for a walk along the beach – in the dark! I didn't think it would appeal to me much, but it was really good! So peaceful and relaxing!
Perth was a really nice place, I would definitely visit again!
I am now in Sydney and my next update should be in early March, just before I go to Melbourne – I have decided to go to the first race of the new season of the Formula One! 4 day ticket!
Speak soon
Terry