Sydney, Australia
Hello Everyone,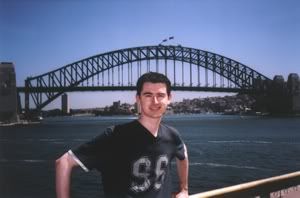 I hope everyone is well, I am doing great! Since my last update about Perth, I have been in Sydney. I arrived in Sydney on 17th February and left on 2nd March, so I had a good 2 weeks here.
The hostel I stayed in is the best hostel I have stayed in so far on my trip, no contest. Its called 'Wake Up!' and is in a good location in central Sydney, its a bit more expensive than other hostels at $24 AUD p/n, but its definitely worth it. Even had Key Cards to get into the hostel and dorm rooms! Been staying in a 10 Bed Dorm, the people in the dorm over the 2 weeks have been a good bunch mostly so can't complain, apart from the loud snoring coming from the odd couple of people! (And what a guy/freak did one night – I just can't mention here! Ask me when I get home – very funny story!). Oh before I forget, there was another freak staying in my dorm, he paid $175 to do a course – The course was to become a stop/go sign (Lollipop) man…. nutter. The bar was quite good too, a few of us went down one night and they had a band on – they were quite good actually, the other nights I spent down there were good too, actually after the northern beaches (see below) tour, most of us on the tour met up again in the evening in the bar and we had a great time.
Again, I am finding it quite easy to meet people and make friends, it helps staying in a 10 bed dorm, and you even get chatting to people when you are in the kitchen cooking your dinner. So things are going well on that front, and again opportunities to meet up with people at other places on my travels.
When I ventured out into central Sydney, One of the first places I visited was Paddy's Market. I had been told that it's an experience you can't miss, which is true! It sells everything really and it's a bit crazy too! From there I headed through Chinatown and arrived at Darling Harbour. It's quite a nice place here actually, and if you have money, there is plenty to do here. But obviously it's not the main harbour that I wanted to see! I walked down to Circular Quay and from there you can see both the Sydney Harbour Bridge and the Opera House. It was superb seeing it at last, I was finally there! From there I walked up to the Opera house and took a closer look, the building looks even better when standing right next to it! Then I asked someone to take a few photos of me with the bridge and opera house in the background, looking forward to getting those developed.
Staying with the Opera House, I paid $20 to go on a guided tour inside the building, it was good actually, and there was a free tea or coffee voucher included in the ticket, so – Bonus! I like the word 'Free' in case you hadn't noticed. Sadly we weren't allowed to go into one of the main theatres – Concert Theatre, due to rehearsals taking place, but we did manage to go into two of the three smaller venues and the other main theatre – Opera Theatre, which was good. Well worth going.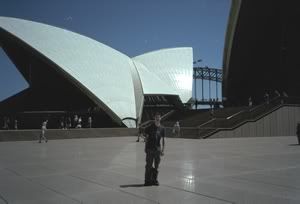 The parks in Sydney are well worth a visit too, we took a walk up through Hyde Park, then into the Botanical Gardens, very peaceful and relaxing! Ended up at Mrs Macquarie's Chair – which for me is the best place to take a photo in Sydney – it lines up the bridge and the opera house perfectly! I actually visited there twice, and on the second time apparently a girl I met in South Africa while travelling actually spotted me standing there while she was on a ferry going past! Small World!
I did a couple of day tours while in Sydney, the first tour I did involved a tour of the Northern Beaches of Sydney. We left from our hostel at 8am and firstly went to Palm Beach – This is where 'Home and Away' film, so it's basically Summer Bay Beach! We were in luck actually as when we turned up the film vans were there! Anyway we all decided to play it cool forget the TV stars for a while and walk up BarrenJoey's Lookout, you get a great view from up there, good exercise too actually. Back down at Palm Beach Surf Club, or Summer Bay Surf Club to you and me, we noticed they were filming on the beach, so we headed down there and they allowed us to sit on the beach and watch them film!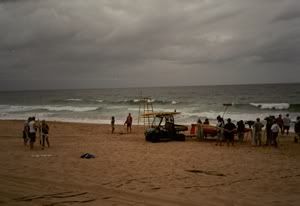 I didn't recognise the 3 actors in the scene, but they must be in a big storyline at the moment as I saw them on the front of one of those TV soap magazines in Woolworth's the following day. After a picnic lunch we headed to Manly Beach, we had planned to play beach volleyball here, but it started raining as we got there, so the rest of the day was ruined really, but we didn't let the rain ruin our fun, on the way back to the hostel, we drove through Kings Cross, a erm, 'dodgy' area of Sydney, lots of bars though! We stopped off at a bar and had a drink before heading back to our hostel and a free drink at the hostel bar (yes, free! There it is again! It's a great word!). It was a really great day, and to find out we got the day trip for $29 instead of $59 it was a bargain, cheap as chips as David Dickinson would say!
Another day trip I did was to the Blue Mountains National Park which is just west of Sydney. We stopped off for morning tea at a place in Windsor, and then headed into the national park, to see the Blue Mountains,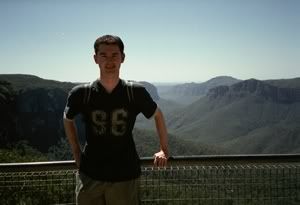 then after lunch we headed to the Scenic Railway to get a good view of 'The Three Sisters' – which are basically three rocks that apparently look like sisters!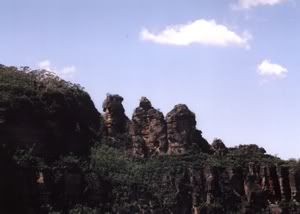 The railway holds the record for the steepest railway in the world, I wouldn't disagree with that, it was more like a rollercoaster than a railway! Then on the way back we stopped off at Featherdale Animal Reserve, We got really close to the animals here, got a photo taken next to a Koala,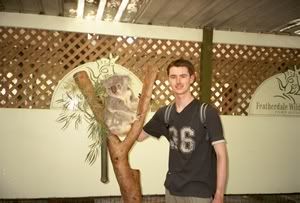 and also with a Kangaroo! I enjoyed watching two Taz Devils biting each other in a fight, it was almost the highlight of my day, but another thing happened today that I have to mention, just because I found it so funny!
We stopped off at a nearby town to let some people stay in the Blue Mountains overnight and while the rest of us waited on the bus, we were kept entertained by some weirdo sitting on the wall at the side of the bus! He looked so spaced out, he was well out of it and he was very tired, as he kept nodding off and kept falling backwards – must have happened about 20 times (We were hoping he would fall right back, but he always kept waking up just in time, stopping himself), then he starting smoking a cigarette, not realising he hadn't lit it properly! and when he did finally light it properly he began nodding off again, his mouth opened up and the cigarette fell on his lap almost burning him, it was so funny! Sadly after this, the entertainment was over and he walked off. Yep I have a strange sense of humour….
Before I left Sydney, I had to visit Bondi Beach, and we headed down there, spent a bit of time there before deciding to do the Bondi – Coogee coastal walk. A guy at the hostel said it was a 1 hour 30 minute walk – YEAH RIGHT! More like 3 hours 30 minutes! It went on for hours; the only thing that kept me going, was knowing that dinner would come after the walk – a Roast Dinner back at the Hostel! Actually the walk was worth it, even though we were so tired afterwards! I know you are all wondering what the roast dinner was like! – The roast dinner was good too; I had one the Sunday before too! (So I'm not always eating 2 minute noodles everyone!)
Most of you will know that the main thing I wanted to do on my whole trip was the Sydney Harbour Bridge Climb. Obviously I did it! It was SUPERB! Yes, SUPERB. I actually did it with a fellow gap year member! I met up with Becky – username 'Lamb' while in Sydney and we decided to do the climb together, she then proposed to me on the 29th Feb, but that's another story…. Anyway, we didn't have a drink the night before, just to make sure we didn't fail the breath test – if we did fail we would lose our money. Anyway after passing the breath test and getting changed into a grey boiler suit type thing, we put on the kit needed to do the climb – belt with wire, cap, radio, and lots of ties to make sure nothing would be dropped on the climb – I had to even have ties around my glasses just in case they fell off while high above on the bridge. After a bit of a practice run on demo equipment, we headed out and started our journey climbing the bridge, you have to climb up a few sets of ladders then you are on the arch of the bridge, at which point it's a lot easier, then it's just a gentle walk up to the top. The weather was great, picked a great day for it, and the breeze actually helped keep us cool in those suits. You could see a lot from up there, but for me it wasn't really about the views, I just wanted to climb it! You aren't allowed to take your own camera up there, so the guide takes 4 photos of you at certain points when climbing the bridge, I was always going to pay to get 1 photo – with the opera house behind me,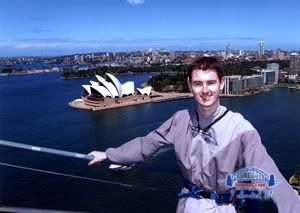 but when I got back to the Bridge Climb office and saw my photos, I ended up buying another one too – with the Sydney skyline behind me,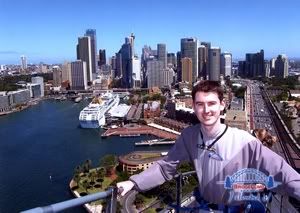 it was probably a better photo than the one with the opera house behind me. Anyway summary – It was great, expensive ($155) but great, do it if you visit Sydney!
On my last night in Sydney after a few drinks in the bar, for some reason a few of us decided to walk down to Circular Quay to see the bridge and opera house lit up at night, this is at 1am and a 25 minute walk to get there, it sounds like madness, but it was weirdly good!
Sydney is a really good place, and I met lots of people there, I will keep in touch with a quite few of them I'm sure. I left Sydney on Tuesday afternoon on the Greyhound overnight Coach to Melbourne; it was delayed on route and actually took 16 hours instead of 14 hours to reach Melbourne. It wasn't that bad though, and travelling on the coach with Nicola, a friend I met in Sydney, helped the time go quicker.
My next update will be in about a week's time, telling you about my quick visit to Melbourne for the Grand Prix weekend, and the Neighbours Night! So you'll find out how I managed to get so close to Jarno Trulli & Fernando Alonso from the Renault team, and Rubens Barrachello & …. Michael Schumacher from Ferrari! You'll also find out how it goes meeting Lyn Scully, Dr Karl Kennedy, and the legend that is Harold Bishop from Neighbours! I bet you can't wait…..
Speak Soon
Terry