Melbourne, Australia (Grand Prix Weekend)
Hello Everyone,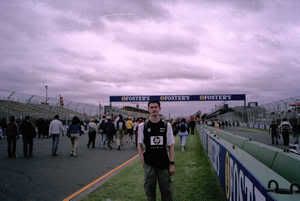 I hope everyone is well, I am doing great, had a superb time in Melbourne over the last week. As you might know I didn't originally plan to visit Melbourne for the Grand Prix, and only decided in the last couple of weeks. I am so pleased I decided to go!
Grand Prix, Aussie Rules and Neighbours Night were all part of my week in Melbourne, I had a great time, but it cost a fortune!
I left Sydney on Tuesday 2nd March and caught the overnight Greyhound bus to Melbourne; it took 16 hours in total after being slightly delayed. Struggled to get any sleep on the bus, but still happy I decided to go overnight as it saved me money – didn't have to pay accommodation that night! I arrived the following morning (Wed 3rd) at 8am, and I was pretty tired, luckily I didn't have to walk far to my hostel, about a 2 minute walk from the bus station!
I spent Wednesday morning walking around Melbourne CBD, and then in the afternoon, I headed to Federation Square, where they had some F1 events going on, when I got there, Mark Webber (F1 Driver) was on the stage. Here I met up with someone I knew and we had a beer after the F1 events had finished. In the evening after a brief sleep back the hostel, I headed out for the night with someone who I had met in Sydney in my dorm who was here for the Grand Prix (GP) too, we went to the Fitzroy area, which is quite a busy bar and club area of Melbourne. Had a good night; everywhere had a F1 feel in all the bars, so it was great.
On Thursday, it was the start of my F1 weekend! I was really excited! It was pretty easy to get to the track (held at Albert Park) as they were putting on free trams – FREE! Again I love that word! Anyway I had a General Admission ticket, which is the cheapest ticket you can get, and it allows you to watch the action from almost anywhere around the track (apart from the main pit straight). Today I didn't watch much of the race action, especially as the F1 cars didn't appear until the Friday. I spent the day looking around at the other events going on – looking at all the cars on display, stuff like that. The main thing I did today was stand in front of a stage. There was an autograph stage where drivers would come at certain times of the day and give interviews while signing autographs, and everyone else could watch from behind the crowd barriers. I was there when the Renault drivers – Alonso & Trulli where on stage, and got a good few photos. Later in the day I heard over the PA system that Rubens Barrachello was making an appearance on stage, so I quickly made my way to the stage from where I was and managed to get right at the front of the crowd barrier, so had a good view!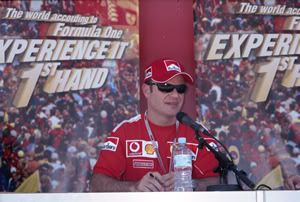 When he was leaving he hinted that Michael Schumacher was going to be there a hour later, so being in such a great position I stood there for another hour, in the 40 degree heat (don't worry, I had my stupid wide rimmed hat on and the good old 30+ sun cream), it was worth it though as by the time Schumacher came out the place was packed, and I had one of the best views in the place, about 2 -3 metres away – got photos developed the other day – really good photos taken of him and Barrachello!
On Friday, The F1 cars were out on the track for the first time – practice sessions, Michael Schumacher was red hot, I knew from that day he would win the race easily! I am glad I had Ear plugs, the cars are so loud! I watched these practice sessions on a long straight, which meant the cars zoomed past, you hardly had chance to make out what car it was! On the Saturday, I moved to another area, where I could see them slow down for a corner, it was such a better position to watch, so I decided this was also the spot to watch the race on the Sunday. The Qualifying was on the Saturday, it was really good actually, especially the second session! The atmosphere was great, you had the Ferrari fans going crazy, Williams fans going crazy, and then the solo Japanese guy supporting Sato who went absolutely crazy when he qualified 1st (but there was still 10 other faster cars to do their laps!)
Sunday was race day and I was up early to get to the track and get a good spot on the hill at the position I had chosen to sit for the race. I got there and the hill was full already! At 8am. There are so many professionals that go to these races, they even bring along the fold away chairs! The whole hill was taken up by them, but I decided to hang around as it was the best place to watch the race!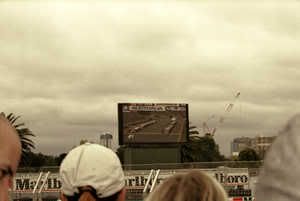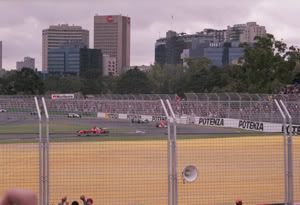 Stood up for it, but didn't mind! The atmosphere was great there on race day! Pity the actually race was pretty uneventful – The Oz GP is normally really action packed, but not this year! I still enjoyed it though! After the race I walked around the actual track, it was really good, I had a good laugh at a guy rolling around in the gravel traps – the gravel had been sprayed blue, the guy not realising this, was covering his new Ferrari top in blue paint! Idiot!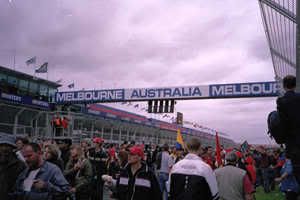 The 4 days at the GP was really good, and as I said, I am so pleased I decided to go!
Keeping on the sporting theme a bit longer, when you visit Melbourne, you HAVE to go to a Aussie Rules Match! On Saturday evening I went to a cup match, it was St Kilda v Essendon at the Telstra Dome. I didn't have a clue at the start how to play the game, but I picked it up as the match progressed. The referees have a great job as there doesn't seem to be any rules, you see someone get really badly tackled, but nothing is given, only heard his whistle once in the whole game! Also apparently you can't get sent off, so you could punch someone's lights out and you just get on with the game! Anyway it was a great match; St Kilda won which was a bit of a shock. They play the worst cheesy tunes as the teams come on the field – St Kilda are nicknamed The Saints and they use 'Oh when the saints go marching in….', and they change the lyrics slightly so When the saints DO go marching in, apparently 'I want to be in St Kilda' according to their song!
On Monday I spent the day showing my friend around Melbourne, she was visiting relatives in nearby Ballarat, and had popped into Melbourne for the day to go to Neighbours night (and to obviously see what Melbourne itself was like of course!)! There is a free city circular tram you can hop on and off around the CBD, yes I did say free! Did a circuit of that before heading to the river bank to take in the Moomba River Festival it was good!
In the evening it was time for Neighbours Night! Time to meet the legend that is Harold Bishop, got a free bus there – to St Kilda, The Elephant and Wheelbarrow. After about an hour in there, the 3 neighbours 'stars' were introduced. Karl Kennedy came in first; he looked so pleased with the welcome he got! Then Lyn Scully came in, followed by the legend, Mr Harold Bishop. Harold was well up for having a good time! When the question/answer session came along, Harold sung Happy Birthday to some girl in the crowd, Lyn was so happy when a guy asked if he could have a birthday kiss! After Q & A's, Harold stayed on stage and the other two started walking around the room meeting people and having photos taken.
Our table was quite near the stage, and the security guard came up to our table first and said "Are you guys ready to meet Harold?" I leapt up off my seat and said – YEP! And hopped up on stage first! Said a quick hello, how are you, the usual… to the man himself, posed for the photo and off! I can't wait to get the photo back, will be so funny!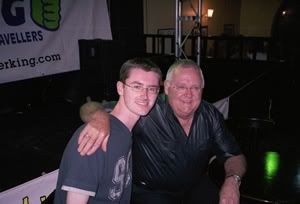 Lyn came around and she is so small, so she had to comment on how tall I was and stuff like that,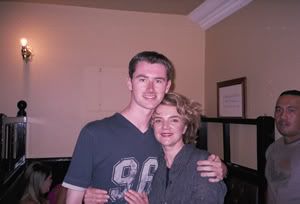 and when Karl came around, he seemed to be giving autographs to everyone so after my photo, I asked for his autograph, he got a bit carried away though and did 7 of them for the whole table even though they didn't ask!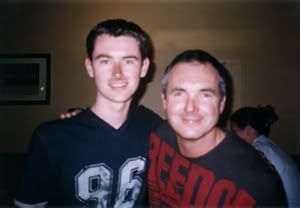 They were all nice people though, really down to earth! Harold doesn't like 'Home and Away' by the way – when the MC asked the crowd whether anyone liked 'Home and Away', Harold jumped up and grabbed the microphone and said, 'its not Home and Away, its Homo and Gay!' – You just don't imagine him saying stuff like that so the crowd were killing themselves laughing!
After they left about 2 hours later, we took part in the general knowledge/Neighbours pub quiz, came 7th out of 41 teams, everyone else must have been awful, as we didn't get that many questions correct! It was a really good night, and the result being that I have met the legend that is Harold Bishop, superb!
Tuesday and I had to check out of my hostel as I was heading back to Sydney, after a visit to Queen Victoria Market in the morning which was quite good actually. Then in the afternoon I met up with Susie from gap year! Checked out her Oz photos and she gave me some good tips for Oz Experience! At 8pm I got the Greyhound bus to Sydney, arriving in Sydney the following morning (today the 10th) at 8am. Staying here one night, and tomorrow morning I start my journey up the east coast, using the hop on, hop off Oz Experience Backpacker Bus. I am really looking forward to it actually!
So my next update should be in a couple of weeks!
Take care, and speak soon
Terry