Sydney to Brisbane (Overland), Australia
Hello everyone!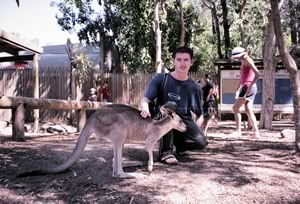 I hope everyone is doing fine, I am doing great!
Since my last update about Melbourne and the GP, I headed back to Sydney to start my journey up the east coast. In about 10 days I have worked my way up to Brisbane from Sydney – a total of about 1425km using the Oz Experience hop on/off backpacker bus.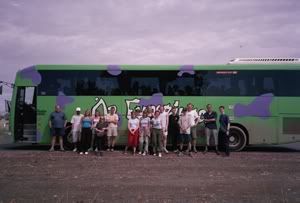 I have had a great time so far travelling overland up the east coast, met some great people and had a good laugh!
I left Sydney on the 11th March, pretty early in the morning for a journey which would eventually take us to our overnight stop in the Warrumbungles National Park – 560km away. During the day, we travelled through several towns – Windsor, Sofala, and Mudgee. Sofala is Australia's oldest surviving gold town, we stopped here for lunch – at which point the population of Sofala doubles in size! I got a chicken sandwich here for lunch, the chickens around here must be deformed or something as the meat in the sandwich was shocking! When we arrived at the overnight stop in the Warrumbungles NP that night, we were in the middle of the bush, and really our first encounter with the oz creepy crawlies, a lot of people were freaking out at the smallest bugs, one of the guys in my dorm couldn't stay in the room because there was a couple of harmless spiders around – I don't see him lasting long outside the cities over here! Anyway this place is the cosmic capital of Australia due to the weather conditions and the lack of light pollution, so after a great roast dinner cooked by good old Liz (owner of the place), a local astronomer came and gave a slide show (I felt like I was back in school again) then we headed outside and using a superb laser device she showed us the different stars in the sky, showing things like the southern cross. I really enjoyed it actually; it was amazing how many stars you can see away from the city!
The following day we left the Warrumbungles to head to Bingara – 250km away, quite a few stops on the way though. We firstly stopped at the Joint run Australian/British Observatory, and took a look inside there – it was free, so bonus! Had quite a few stops during the day but I won't bore you with it now. We arrived in Bingara late afternoon, a population of just over 1000 people, with a pretty small main street (obviously). We were staying above a pub for the night! It was quite good actually! After a BBQ dinner, we spent the evening chatting to the locals (trying not to laugh at their mullets – they were shocking!), good bunch of people! It actually hit me how small this town is when the following morning when I was walking down the main street – everyone I saw out and about were in the pub the night before!
Saturday morning came, and after using my I.T. skills to help 'Bubbles' the bus driver with his laptop… (I should start charging I think! – he knew I had an I.T. background from everyone's introductions on the bus on the first day) we left Bingara and began our long journey (465km) to Byron Bay (at which point I was hopping off the bus for a few days). After random stops during the day (means that it's not worth telling you about them!) we arrived in Byron Bay at 7pm. The driver had arranged for all of us to meet in a bar called Cheeky Monkey's that night – Everyone on the bus had pretty much been together for 3 days, and had a great time, so tonight was a great way to end a good few days before everyone goes their own ways! It was a good night, you can dance on the tables there, and yes, I was dancing on the tables, well if you can call it dancing… I am pretty awful.
As I said, I planned to stay in Byron Bay for a couple of days, didn't have much planned really, good place to relax really! I went down the beach one day, and the other day I just spend my time looking around the shops. I went back to Cheeky Monkey's again – only because they were having a free BBQ! Anyway can't really say much about Byron Bay, nice place to stop, relaxing place, it's really a place for people who love the beach! Seems popular though, I was paying more for a dorm room here than in Sydney!!
I left Byron on Tuesday 16th March and it was just a couple of hours drive to Surfers Paradise on the Gold Coast, my next stop. On this journey we left New South Wales, and headed into Queensland. Its strange as the time changes as soon as you go over the border (and we are heading north!), We drove down a road where a row of houses on one side were on Sydney/NSW time (+ 11 hours from UK) and the other side of the road was on Queensland time (+10 hours from UK), it must be very freaky to live on this road! Anyway Surfers Paradise,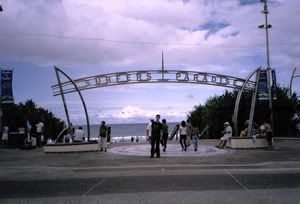 I had been told it's quite a commercial, tacky, touristy place – the high rise buildings actually blocks out the sun for people on the beach after 3pm! The people were right; it is quite touristy, especially aimed at the Japanese for some reason. The only reason I decided to stop here was for the theme parks! There are about 5 theme parks here, and I felt like going to one! Paul (my cousin) had recommended Dreamworld, so I went there with a few others that I was still travelling with. It was a good day!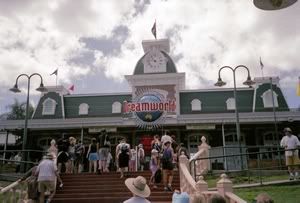 Probably the biggest ride there is called "The Giant Drop" – It's the tallest free fall ride in the world – 120 metre drop. You get winched up there and sit at the top for…..well it seems forever, then without any notice, you get dropped, it takes less than 5 seconds to drop back down, and then the brakes kick in near the bottom! It was so good! The other rides were pretty good too – I got soaked on the log flume ride – don't sit at the back!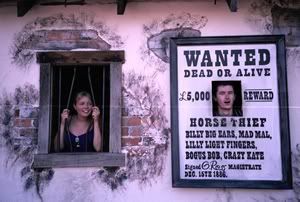 I left Surfers Paradise on Thursday 18th March and my next stop was Brisbane, again, not a long journey, only about a 1 hour drive on the Oz Bus. A lot of people were staying on the bus and bypassing Brisbane for some reason, I think they made the wrong decision as it's quite a nice place! While I have been here, I have been to the Botanical Gardens, great place to relax and read (20 pages away from finishing 'The Hobbit' by the way – not bad for someone that hasn't read a book for years! I will be starting my next mission soon – Start reading the big 3 in 1 Lord of the Rings book!). Also been the Brisbane Museum (it was free) – it had some strange things on display there!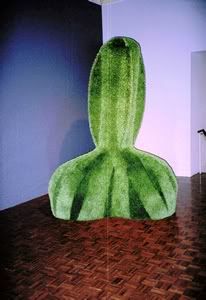 Also we went to the South Bank of the river, there is lots going on there – entertainment, market, a fake beach (yes a fake beach!), and there was some kind of rowing event taking place yesterday! Even I didn't feel that I was in Australia…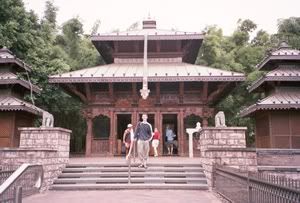 I leave Brisbane tomorrow morning (Monday 22nd) and after a overnight stop in a place called Mooloolaba, I get to Hervey Bay on Tuesday, which is where I will hop off to go to Fraser Island for a 3 day/2 night 4×4 Camping Safari!! I can't wait! Then after Hervey Bay/Fraser Island, I have brief overnight stops in Bargara and Dingo, before hopping off at Airlie Beach on the 29th March – To go to the Whitsundays! 3 day/2 Night deal – live aboard!
Really looking forward to the next couple of weeks! Should be good! Anyway I must go and I'll update again in a couple of weeks time!
Terry