Brisbane To Airlie Beach (Overland), Australia
Hello Everyone!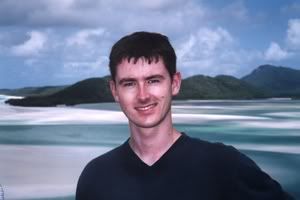 You are probably bored of my updates by now but hey, hard luck!
Yeah, so I left Brisbane on 22nd March, I hopped on the bus and the plan was to travel north to the overnight stop in Mooloolaba, but before then we had the option to hop off the bus for a few hours to go and visit Australia Zoo! I saw a Croc show there, but sadly Steve 'CRIKEY! BEAUTY! WOOOOHOOOO!' Irwin was nowhere to be seen.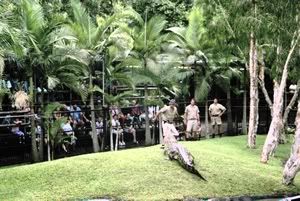 Then it was up to Mooloolaba – not much to say about it really, I'll remember it for the rain and also being bored to death by a guy in my dorm room. It seems you like to hear about all the freaks I meet so here goes…
As soon as I walked in the room and said the usual "Hi, how are you?", he launched into a non stop 10 minute spiel about his life – telling me things like he has been living at the hostel for 5 months, he is working on a building project and he nearly died last week due to a falling power line, and also that his ex wife is chasing him up about owing child support. As I said, this lasted for 10 minutes, when he stopped to take a breath, I said "By the way, I'm Terry!", and then I escaped for the rest of the evening. Its quite funny bumping into these freaks!
Anyway the following day I hopped on the bus and headed to Hervey Bay, which is the gateway to Fraser Island – It's the largest sand island in the world. I had booked on a 2 night/3 day 4×4 self drive camping trip on the island. After a night in Hervey Bay, I was up at 5:30am to get ready for the briefing – this involved watching a video, with Ranger Omar and Tanya telling us the rules of Fraser Island and also advice about how to drive a 4×4 vehicle. They also told us some 'useful' information, such as – 'DON'T STAND ON CARS!' and 'DON'T USE OPPOSITE SEX TOILETS!' – Do they think we are stupid?!?! Anyway we had a good laugh watching that video, then after getting split into groups and collecting our car and camping gear, then popping to get food and alcohol, we went to catch the barge to the Island.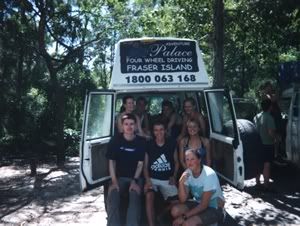 Day 1 consisted of driving east across the island then drive north up the Eastern beach (avoiding the saltwater of course so we didn't lose our bond), on the way we stopped off at Eli Creek, but didn't go swimming because the weather was awful! In the late afternoon we arrived at Waddy Point which was where we set up camp for the night. We had a BBQ for dinner, constantly watching the biggest spider I have ever seen in its web high above the BBQ on the roof joists. Just as we are finishing our meal something fell and landed right between my legs – which we all thought was this massive spider and we all leaped up – only to find that the thing that fell was just a massive cockroach! The spider was still in its web!
On Day 2 we left Waddy Point and after a stop at the Champagne Pools (which weren't that good to be honest!) we travelled back down south along the eastern beach stopping off at the Maheno Shipwreck, then down to Central Station (I haven't got a clue why its called that, there isn't a station there) to set up our camp for the night. It was a really good camp site and the facilities were quite good. Had a good night that night, I was in a great group.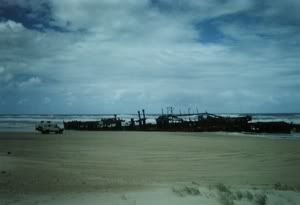 On Day 3 we headed to Lake McKenzie, it's superb; my photo will not do it justice. Then we drove back to catch the barge back to Hervey Bay. There were 4 groups using the same 4×4 tour company and I think I was lucky as I think our group were the only ones who were all friends afterwards! The other groups were bitching about other group members and also only a few people in the other groups were helping set up camp etc. Our group even met up in the evening back at Hervey Bay as we arranged to all go out for dinner, and then we all met up again for breakfast the following morning before we all headed our separate ways! I really don't think I could have been in a better group. (And I'm not just saying that – some of those people in my group are getting this e-mail!). Fraser Island was one of the main things I wanted to do on my trip, and I wasn't disappointed, it was superb.
On the 27th March, I hopped back on the bus to go to the compulsory overnight stop in Bargara. I can't say much about Bargara as I didn't even leave the resort! It was a good resort actually! I also left my travel buddy Sally here, we have been travelling together for just over two weeks and had a good laugh! But Chris and Craig, two of the guys in my Fraser Island group had the same plans as me for the next week, so I wasn't back to being alone just yet! The following day (28th) it was a 485km drive to our next compulsory stop in Dingo. I was really looking forward to this one as we were staying at a cattle station! The station itself is the size of Belgium (its true!). I had a superb time there, really got to experience a real bit of OZ! When we got there we all got dressed up like idiots – well sorry, in cowboy/country fancy dress, then we had a BBQ, after which we learnt how to line dance! (Why I am telling you this, I don't know – I'll never live it down) – It was good fun actually even though we were bumping into each other! Also because we were in the middle of nowhere, the stars in the sky tonight were amazing – they were probably better than the ones I could see when I stayed at the Warrumbungles. The following morning before leaving we went on a tour of the cattle station – it doesn't sound much, but it was actually quite interesting! At the end of the tour we learnt how to crack a whip (well I tried, its very hard!), then learnt how to throw a boomerang! This overnight stop was something that I'll definitely remember, just because it was so different to everything else I'll do!
Then I jumped on the bus again and the destination was Airlie Beach (500km drive away), it's the gateway to the Whitsunday Islands. I had booked onto a Maxi Racing Yacht called 'Condor' which is apparently quite famous – it's won plenty of races in the past. I booked on this type of boat as you can get involved – help put up the sails and stuff like that! I got to Airlie Beach late in the evening on the 29th April and began the 2 night/3 day sailing around the Whitsunday's the following day. I was on the yacht was 25 other people plus 4 crew.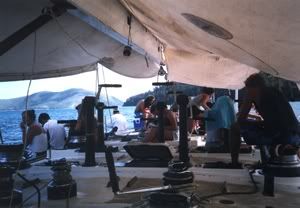 I thought I knew one of the guys from somewhere before, I spent the whole of the first day trying to figure out where! It turns out I was right, I did know him; he worked at Telewest in the I.T. Department! That's freaky! The sailing was great, it was a real adventure – there were points when the boat would really tilt and one side of the deck would dip into the water – all of us would have to run up the other side of the deck to avoid falling in! We saw Dolphins and Turtles swimming beside us, and we also raced other boats, it was superb! I also went snorkelling – we are now into the Great Barrier Reef and I had a great snorkel, the range of marine life was amazing and the coral was great! (Don't worry; I wore a Stinger Suit, just to make sure I wasn't killed by a Box Jellyfish! – Can kill in 3 minutes!). On the 2nd Day, we got off the yacht and went for a bush walk on Whitsunday Island, this involved a visit to Whitehaven Beach – now I thought the view from the top of Table Mountain was superb, well Whitehaven Beach is the best thing I have ever seen – wait until you see the photos!
Sleeping on board was an experience! Some people decided to sleep on deck but me and most of the others decided to sleep in the small cramped beds below deck – it wasn't bad! Better than sleeping on the hard, sandpaper like texture deck surface! The 4 crew were a good laugh too, The Captain – Kirk (no, seriously that's his name) tried to fool us on April Fools Day by saying he had no forward gears to get the boat out of the bay and into the winds. But we knew straight away what he was up to! It was a really good 3 days and it ended my pretty hectic couple of weeks – been up before 7am everyday! I need a sleep-in!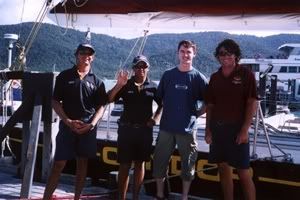 I left Airlie Beach on the 2nd April and the plan for the next couple of weeks or so are stops in Townsville, Magnetic Island, Mission Beach, Cape Tribulation and I'll be in Cairns for Easter. This will end the east coast leg of Australia. Still a lot of ground to cover though after Cairns (including 9 days in the outback!) as I have to be back in Sydney for the 1st May for my flight to New Zealand.
2 and a half months have passed already, only 5 months left – this is going too fast!!!
Take care,
Terry