Airlie Beach To Cairns (Overland), Australia
Hello Everyone,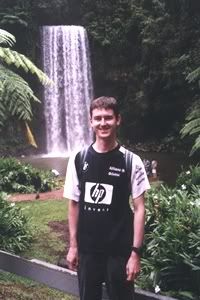 Me again! I thought I would fill you in with what I have been upto since I left Airlie Beach and arrived in Cairns, as tomorrow I leave Cairns and head into the Outback for 9 days.
I left Airlie Beach on 2nd April and headed up to Townsville which is apparently the Capital of North Queensland, and our Bus driver said its bigger than Cairns but I can't see where he got that from. Townsville was a lot bigger than I expected though, I decided to stop here as its the gateway to Magnetic Island. When Captain Cook went past the island, his Compass went berserk so thats how it got its name – although there isn't anything wierd about the area, his compass was just broken! I decided to go over to the island on the Saturday (3rd) just for a day trip on the ferry. Its a nice place to go, but I'm pleased I didn't bother going over for a couple of days as there isn't that much to do there! I visited a few of the bays on the island – Picnic Bay, Alba Bay and Horseshoe Bay, and I also decided to do a 1hour 30 min walk along a trail to Radical bay and back, it was a good walk actually but it was so hot and humid! I spend about 5 hours on the island then headed back to Townsville on the ferry.
Another day in Townsville I went to Reef HQ which is the worlds largest living coral reef aquarium, I wasn't going to go at first because its more money and I didn't think I would enjoy it that much, but it was actually quite good! Very interesting too, I won't bore you too much but basically learned about how the coral is formed/created, the predators in the water, and also I was lucky enough to go on a day when it was a feeding day, so I saw the sharks getting fed – pleased I decided to go in the end. On 5th April I left Townsville and headed up to Mission Beach, I was stopping here for a couple of nights as I decided to do White Water Rafting from here!
On Tuesday (6th) I got picked up from the hostel and was taken to Tully, about 25 minute drive away, we would be rafting down the Tully River all day, its a very good place to raft apparently. The rapids are classed as Grade 4 rapids (with the highest possible being grade 5). I had a great day, it was superb! We rafted for 2 hours in the morning and then for 2 hours in the afternoon after lunch. Our raft guide was a nutter, but in a funny way! He actually made the raft capsize on purpose – to our sudden surprise! We all ended up under the overturned raft pushing away each other to get out and get some air! When we surfaced we saw him sitting on the overturned raft smiling and laughing – while we were all coughing up half of the Tully river! I have to admit it was quite funny though!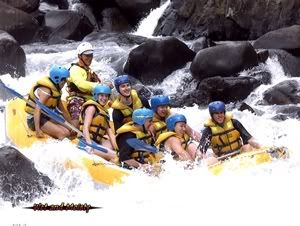 We ended up back in the water again, but this time we actually knew it was going to happen! We were about to go through a rapid and drop about 1metre, so we all piled into the front of the raft so when the raft went through the rapid and dropped, the raft flipped over and we all landed back into the river. Then just before finishing we got out of the raft again and jumped off a big rock (about 7metres high) and into the river (it was so funny watching it all again on the video at the end of the day). It actually sounds from the above that we didn't spend much time in the raft, but actually our guide couldn't believe none of us fell out of the raft when we went through some of the bigger rapids, he was trying his hardest to get us to fall out but it just didn't happen – I think we were just too good at holding on! It was a great day, loved it, I will do it again at some point I reckon.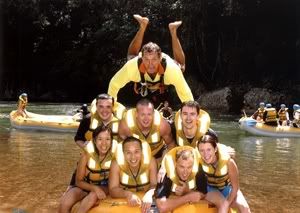 On 7th April, I left Mission Beach and headed up to Cairns. We arrived at about 6pm, and with it being the end of the route for the bus, the driver invited us all to a bar called The Woolshed, in Cairns that night. So I ended up going there that night, it was good – we got free drinks!
Cairns is a just place that full of travel agents (and also mosquitos – As I have found – and yes I have used insect repellent) selling trips to elsewhere, so there isn't that much to do in Cairns itself. I was here for Easter weekend, Good Friday was wierd. Its like Christmas Day back home – everywhere is shut! You can't even buy alcohol in bars!
I met fellow gapyear member, Dom Green on Good Friday too! We had a chat for an hour or so, was good to meet up! I have met up with a few gapyear people so far!
On saturday (10th) I left Cairns to go on a 2 day tour to Cape Tribulation,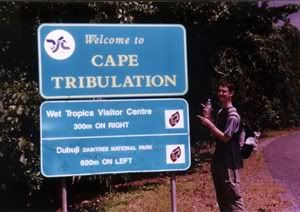 It was good actually, its part of the Daintree Rainforest. On the way up we stopped at a place called Mossman Gorge for a walk and a swim, then arrived at Cape Tribulation at midday. We had free time until the following day at midday when we would get picked up again to go back to Cairns. I ended up doing a couple of rainforest walks, I very nearly walked into a spider (would have gone right in my face) on one of the walks, I only noticed it in its web at the last second – lucky eh!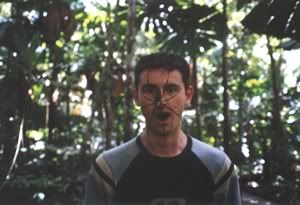 On the way back on the Sunday we stopped and went on a Daintree River Cruise – Crocodile Spotting! We did spot a few Crocs on the banks of the river which was good, the guide also spotted a few tree snakes, and a tree frog – personally I think he was making it up as no one else could see a thing!
Then today (12th) I went on a day trip (worth $105 but I managed to get it for free – David Dickinson would be proud). It was a waterfalls tour. There is no way I would have paid $105 for it, but it was a good day – Milla Milla Falls was superb.
So, anyway its time to get away from the endless fields of sugar cane in Queensland, and time to spend a bit of time looking at red dust instead for a while!
Tomorrow I jump on a bus (if I wake up early enough) at 5:55am (YES! I know – I didn't know that time existed either!) and spend three days on a bus to Alice Springs, not really looking forward to it as the only 'attraction' along the way is the smallest pub in Australia. You never know, I might be surprised! But then comes the bit I am looking forward to – the next 6 days (Alice Springs -> Adelaide) – including sunset and sunrise at Ayers Rock! I'll update again when I get back to civilisation in Adelaide.
Bye!
Terry 😀