The Outback, Australia
Hello Everyone!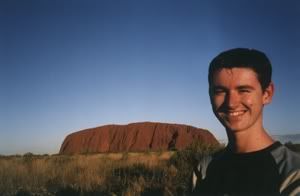 Hope everyone is well! Since my last update I have travelled nearly 5000km (3100 miles) in 9 days on a bus from Cairns in Northern Queensland, through the outback of the Northern Territory, and now have arrived in Adelaide in South Australia! The journey was split into 2 legs – Cairns->Alice Springs and Alice Springs->Adelaide (via the red centre – Ayers Rock).
I left Cairns on the 13th April pretty early – before 6am and began Day 1 of 3 on a big orange bus called Desert Venturer. The destination for the end of the day was a place called Hughenden which was 754km (468 miles) away. We got out of the tropical surroundings of northern Queensland very quickly and by the time we reached Lynd Junction we started driving on dirt road and we began to see the surroundings gradually turn orange and red! Also while talking about Lynd Junction – it's the place that has the smallest pub in Australia – can only fit 2 people in there!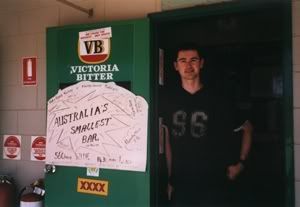 We stopped here for lunch, but not in the pub as it would be quite a tight squeeze to fit 26 people in there! Later in the afternoon after more driving, we stopped at Porcupine Gorge and hiked down in the gorge – it was quite easy getting down there, but the way back up was hard work! Thank God I brought my water bottle with me! A lot of the others didn't bother bringing theirs on the walk – idiots! They were ready to collapse! It was so hot! Also at this point, we were introduced to the really irritating flies of the outback! They just don't leave you alone! Millions crawling all over your face, up your nose, stuff like that! We arrived in Hughenden in the early evening, a town with a population of just over 1000 people. We stayed overnight in the Grand Hotel – the only pub in town.
Day 2 of 3 and again I had to be up early – 5am, for a 6am departure. The destination for today was a place called Boulia (Don't worry I haven't heard of these places either!). There was less travelling done today though, with 'only' 572km (355 miles) to cover. The first stop of the day was in a small town called Winton – the residents here love to tell everyone that Winton is great because Waltzing Matilda was written here and also where Qantas started up years ago (years ago – that means I can't remember when!) – Apart from that, the town is quite boring, good for mullet spotting though. Also the place was full of these big bugs that kept smacking into walls, posts, and our faces – quite hard as well! I'm surprised the impact doesn't kill them! At lunch we drove into a sheep and cattle station called Carrisbrooke, the owner called Charlie jumped on the bus and gave us a guided tour – he made most of it up though at there wasn't much outside to look at apart from red dirt and the odd tree! He did take us to an aboriginal arts site though which was worth visiting. After lunch it was time for more travelling, by mid afternoon we had reached Middleton – population 5, and then it was on to Boulia for out overnight stop. On the way we past Boulia Golf Course – very strange considering it didn't have any grass! Tonight we stayed at a sheep and cattle station just outside Boulia called Wirrilyerina Station, its run by a small family and they really made us welcome into their home. They have a few pets too – couple of lambs, a Kangaroo, and 2 dogs, also a baby Kangaroo – a Joey!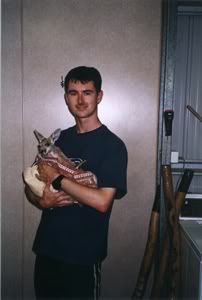 Day 3 of 3 and yet again I was up at 5am in the dark. At 6am we started our 750km (465 miles) journey for the day to Alice Springs. It was a very long day and a very rough bumpy ride along the dirt road. Three hours into our journey and we reached the Queensland/Northern Territory border. The driver told us to get off the bus and walk over the border – and automatically we gained 30 minutes! N.T. is in a different time zone, but not a usual 1 hour change – only 30 minutes, so I am now 8 and a half hours ahead of the UK. About an hour later we stopped at the Cathedral – no there isn't a cathedral in the middle of the outback, that's the name given to a massive termite mound – about 5 metres tall, 3 metres wide. – Weird eh! – These are the type of attractions you find in the outback you know! The afternoon was spent driving through Tobermorey which is one of Australia's largest cattle stations – covering 6% of the landmass. Today was pretty boring as there was very little to see, and the places to stop for fuel, toilets, etc were at least 4 hours apart. When people wanted to go to the toilet, we just got off the bus and picked one of the many lav-a-TREES available! The road we were travelling on was so quiet, we saw no more than 10 cars in 3 days while travelling (I'm so glad we didn't breakdown!).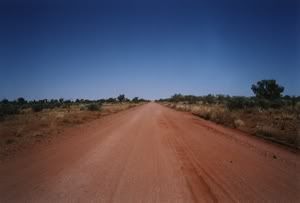 In the afternoon, we stopped at an aboriginal community; we got a warm welcome… the kids were throwing bottles at us and bugging us for money! Nice! Anyway, we arrived at Alice Springs at 6:30pm on Thursday 15th April. The bus driver – Claude had arranged all of us to have dinner at the hostel bar, so we met up later that night. Afterwards we watched Rex the Reptile man kick a couple of his snakes to show what can happen if you panic when you see a snake – MAD MAN!
The following day I was leaving Alice Springs (which was good as I didn't like Alice Springs really!) and going on a 6 day overland trip to Adelaide but via the red centre with a company called Adventure Tours Australia. So, on the 16th I got up at 4am as I had to check in for my trip at 5am – its madness isn't it! The trip I was going on usually has 20-25 people on it, but there were only 7 of us on our trip – the smallest group the guide has ever had! It was a lot better though as we had a row of seats each on the bus, so we could lie down! Also I have found that smaller groups are better – get to know the people more! We had a woman tour guide/driver called Cookie, real name Anna, who was a good laugh, also in the group was Zoë from Guernsey, Ali/Becky/Robin from London, Laura from Cornwall, and Maria from some place in Norway that I can't spell! We all got on great, Cookie was telling us about some of the groups she has had and the fights and arguments that have gone on between group members, but as I said we got on great!
Day 1 of 6 consisted of a long journey to Kings Canyon – which is one of the three main attractions of the red centre. We did a 2 hour hike around the Canyon, even laid down right near the edge looking down at the sheer drop! After lunch at a near campsite and getting attacked by more flies, we drove to our campsite for the next 2 days at Yulara – which is just outside the Uluru-Kata Tjuta National Park. On the way we saw the result of a graphic road kill – 7 camels yes SEVEN camels, had been hit and were all strewn on either side of the road – it was really disgusting – we found out later that it happened at 5am that morning when a 150 ton road train didn't see them crossing the road and smacked into all 7 of them, they all landed where we saw them so they travelled a fair way. It was shocking – sorry, I had to mention it! At 6pm we headed up to the lookout at the campsite to watch Uluru (you'll know it as Ayers Rock) at sunset. It was good but we were a fair distance away and we knew that the following day we would be watching it at the sunset viewing area within the park a lot closer, so we were really looking forward to that! That night we had an early night 9:30pm – but a very different nights sleep than I'm used to – we slept outside under the stars in 'swags' (for those who don't know what they are, its a thin foam mattress wrapped in a canvas cover that you sleep in!), it was good actually, I saw a shooting star before falling asleep – superb! The only downside was getting bitten by mosquitoes on my ears! so itchy!
Day 2 of 6 and again, up at 5am for the 6am departure (lucky it's not summer anymore or today I would have had to get up at 3:30am!) That's because today we were racing against time to get to Uluru/Ayers Rock before sunrise! It was superb seeing it so close; we started a base walk before sunrise (I decided to do the base walk instead of climbing it as the aboriginal people ask you not to climb it).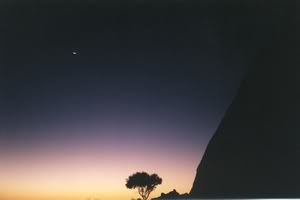 By the time the sun began to rise we were at the right side of the rock and so very close to it, which was great, being able to see the colour of the rock change, and the changing shadows! It was superb! It took about 2 hours to walk around the rock in total. Afterwards we headed to 'Kata Tjuta' (maybe known to you as 'The Olga's'). We did a short walk of a section of the rock – it actually looks like Homer Simpson lying down on his back – no, seriously, it does! Later in the day we headed back to Uluru (Ayers Rock) and the sunset viewing area (the view you see on postcards and stuff).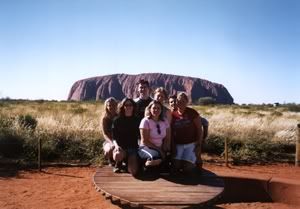 We got there slightly early but it paid off as we got a superb spot – we also had nibbles and Champagne – not in fancy wine glasses – NO! But in 'backpacker cheap' plastic multicoloured mugs! Classy! Not complaining! We had 4 bottles between 7 of us (normally they have 4 bottles for 24 people and everyone gets a little drop, but Cookie the driver stole 3 extra bottles from the office before she left Alice Springs!). It was superb watching the rock from this position at sunset – hoping my photos turn out well!
Day 3 of 6 and after another night sleeping in swags, it was time to leave the red centre behind us and head south to Coober Pedy, which is a good 800km (496 miles) away, so again another early start, left at 6am again, we arrived in Coober Pedy at 3pm. It's the biggest Opal mining town in the world, the place is full of mines – apparently all the criminals hide here because its so easy to jump down a mine and get away from the police! Talking about the police – the police station has been bombed twice in the past – Coober Pedy is the only place in Australia that sell Explosives in a supermarket! This is for people to make bombs for use in the mines, but a couple of people used them to blow up the police station instead! (The new station is now bomb proof!). I was looking forward to coming here as it's so different – it's so hot here that nearly everyone lives underground to escape the heat!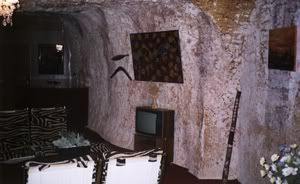 We stayed overnight underground where the temp is always 25 degrees C. We went on a tour of an opal mine and museum while there to learn all about opal and how they found it in C.P. They we were taken down into a mine and the stupid woman told us how to make a bomb! – No wonder everywhere is getting bombed! Afterwards a few of us fancied our chances in finding some opal (as people find some all the time here), so we went to a opal field – basically an area with big mounds of rocks and dust, and we did some 'noodling' – I'm sure we looked desperate, there we were sitting on these big mounds of rocks using our hands to dig and find opals (someone found opal here and sold it for $2000 a couple of weeks ago), in the end we were covered in dust, had flies up our noses, in our ears, probably eaten a few too (yep the flies were everywhere!) and had found no opals!!! We were gutted! A find would have helped our travel funds a lot! Never mind!
Day 4 of 6 and we headed to Rawsley Park, an early start though – up at 4am – 800km to cover today and 650km had to be done before lunch! During the morning we past some incredible salt lakes, most of them are owned by the U.S government as they have a base nearby. So we weren't allowed on them as they probably would have killed us, but we did manage to stop at a smaller salt lake – it was so weird – having these in the middle of the desert!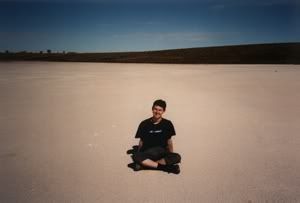 In the afternoon we headed to the ruins of Kanyaka Homestead, and the flies were crazy there (that's all I have to say, nothing about the ruins!). Before stopping for the day at Rawsley Park we stopped in a town called Hawker for a drink in the pub – Mullets Galore!
Day 5 of 6 and we could sleep in until 7am – great considering the crazy hours I have been getting up lately! In the morning we went to Wilpena Pound which is part of the Flinders Ranges. W.P. looks like the remainder of a volcano or a crater from a meteorite, but it's just formed in that shape naturally. It was a good view from the lookout point! In the afternoon we arrived at Parachilna and for dinner we had feral food! That's Kangaroo, Emu and Camel! The Kangaroo steak was nice but quite tough, the Emu was really nice, and well the camel sausage, erm…. we didn't really eat it – especially after one of the girls said "These are probably the road kill camels we saw lying by the side of the road the other day being savaged by eagles" (obviously they weren't!) but that reminder put us off the camel! Parachilna is a small, very small railway town – population 5 people. The longest train in the world (2.85km long) passes through here at sunset, we sat there and watched it go through, it took ages to pass! (Obviously!)
Day 6 of 6 and the destination was Adelaide, we decided to head straight to Adelaide and have a late lunch on the beach before heading to the hostel ending our outback adventures!
Even though 5000km/3100miles is a lot to cover in 9 days by bus, I am pleased I decided to travel this way, instead of taking the easy option and flying – you get to see so much more that you wouldn't normally see. This outback leg of my trip is unique in that it is totally different to everything else I'll see and do and that's why I have written so much, in a diary like style for this e-mail, because I'm not just writing about big cities and stuff like that! The first bus I got on between Cairns and Alice Springs had this written on the side of the bus – "For those who believe the journey is as important as the destination" – and it's true.
Anyway, I'm due to fly out to Auckland, NZ on the 1st May, and the plan for the rest of Australia is a bit rough at the moment, what I have to do is get from Adelaide to Sydney (via Melbourne), but how I do it depends on the timescale and whether I decide to get a later flight to New Zealand. Decisions, Decisions! All I'll know is that in my next update, it will include a couple of paragraphs each about Adelaide, The Grampians, Melbourne, and Sydney, and probably a sentence about the boring Capital – Canberra.
Thanks again for your comments, I'm off to bed, I'm going to Barossa Valley tomorrow, visiting 4 wineries – including Orlando which is where 'Jacob's Creek' comes from! Should be good!
Speak soon
Terry