Adelaide To Sydney (Overland), Australia
Hello Everyone,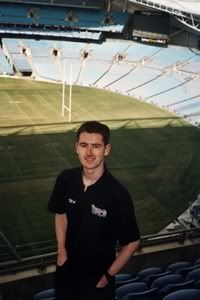 Well its time for my last update…. about Australia! Don't worries you still have 4 months of boring updates to read after this! I have really used my tourist visa to full effect, leaving with only a day before my 3 month visa runs out! I changed my flight out to Auckland from 1st May to 6th May so then I didn't have to rush the last leg of my Australia trip – Adelaide to Sydney (Via Melbourne).
So, as you may know, last time you heard from me, I was in Adelaide, after just finishing a 9 day overland trip through the outback. Adelaide is quite a small city, smallest of the state capitals that I have been to, but it's quite a nice place from what I saw. I relaxed in Adelaide really (you might think I have been 'relaxing' for 3 and half months now, but its not like that – doing things constantly everyday, its non stop, need time to just do nothing! Anyway one of the days in Adelaide, A few of us decided to go on a Wine tour. This involved visiting 4 wineries in the Barossa Valley, which is 'Australia's Premier Wine Region' apparently; it's about 50 km north of Adelaide. On the way up to the Barossa we stopped shortly at a Toy Factory – let me explain! Here they have the Largest Rocking Horse in the world! Yes – Tacky!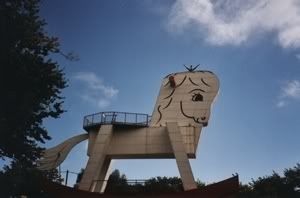 But during my time in Australia I have passed through several towns that survive on these 'big things' such as this Rocking Horse. I have seen a big Prawn, Mango, Pineapple, Koala, Banana, and I'm sure there are more that I have forgotten. Instead of people driving past the town as usual, some stop to look at these freakishly big fruits and animals. Thing is, I think a town called 'Gympie' needs more help than a big Pineapple to help them.
Anyway, back to the Barossa Valley Tour! – Our first stop was at the Orlando Winery, that probably doesn't mean much to you, but one of their brands is Jacobs Creek!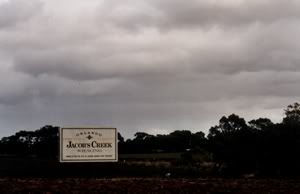 We went in the Jacobs Creek visitor centre and began our structured tasting. We started with the whites (4), then moved onto the reds (3), finishing with a port. This was at 10am in the morning, with three more wineries to visit afterwards! We were taught a lot about the art of wine tasting, which helped us at the other wineries later in the day. The other winery we visited in the morning was Richmond Grove; their wines are only sold in Australia, very nice. After this, we had a BBQ lunch, which as well as the usual meats on offer, it was the second chance to eat Kangaroo within a few days, this time it was really nice – cooked just right! We needed a good meal as the 3rd winery had 20 wines we could try, this was at Bethany Wines, we ran out of time so didn't get in the 20 wines, but had a good go!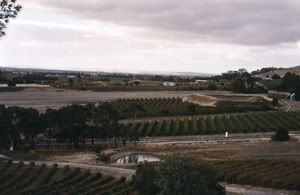 The last winery of the day was at Cockatoo Ridge Winery. They have just won a national award for the best sparkling wine (which they sell for $10), beating the posh expensive sparkling wines in the competition! It was a really good day, pleased I did it! I'm not much of a wine drinker but hey, this trip is about trying new things!
I left Adelaide on 25th April, joining up with the Oz Experience bus again. There were only 12 of us on a 53 seater bus; I was travelling right through to Melbourne, which takes 3 days as you go to other places of interest on the way – including The Great Ocean Road.
On the 3 days to Melbourne, we went to Naracoorte Caves which was good – ended up being 18 metres underground in the pitch black! We passed through the Grampians National Park – did a couple of walks there. Did I mention how cold it was? Coming out of the outback into Adelaide and along the coast – I wore my jacket every day for a week – even one night in bed I was so cold! On the third day we travelled along the Great Ocean Road, it was good actually, great to drive along, great scenery – although I didn't think much of the 'Twelve Apostles' – a big attraction of the Great Ocean Road!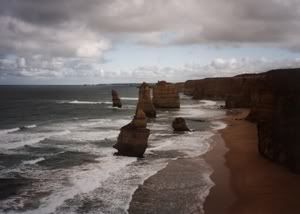 We went past 'London Bridge' – good story about this, apparently a couple had walked across London Bridge and a few minutes later, the rock (bridge part) fell into the ocean, leaving the couple stranded on the remainder of this rock in the ocean – thing is, the couple were having an affair and had skipped work for this romantic meet up! So The Channel 9 Helicopter heard of the breaking news about this couple being stranded and zoomed off to London Bridge, obviously revealing on the evening news to their other halves and work bosses that they were having an affair and skipped work – Divorces and Unemployment followed! Great eh!
At the end of the Great Ocean Road is a lighthouse, the bus driver told us a story about how the lighthouse keeper here managed to get every other lighthouse keeper in Australia the sack, it was an interesting story actually, but then the bus driver told us it was where the kids show 'Round the Twist' was filmed! – Much more interesting everyone thought!!
I arrived in Melbourne on 27th April – Day 100 of my trip! It was good being in Melbourne again, when I was here in March, I really only came for the Grand Prix so didn't really have time to see anything else! Anyway, You might remember that back in March I met the legend that is Harold Bishop at neighbours night, well I decided that when coming back for a second visit I must do the other neighbours attraction to complete the set – The Ramsey Street tour! It was very 'cheesy' but a good laugh! On our way to the eastern suburbs of Melbourne where 'Ramsey St' is, we watched a DVD, with a selection of music videos – people who have gone on from Neighbours and into a pop career. Good selection of 'artists', you had videos from the likes of Kylie, Jason, Natalie Imbruglia (remember them?!?!!!!), and also from major pop stars that you have all heard of such as Stefan Dennis (Paul Robinson). Seriously though, the Stefan Dennis video was so bad I considered killing myself. When we got to 'Ramsey St' or real name 'Pin Oak Court' it was time for photos!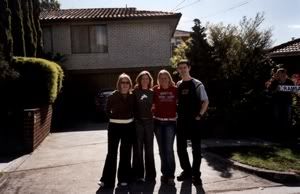 This street is a real residential street, so people actually live in these houses – they get English backpackers visiting every day of the year, not that I feel sorry for them – they get $30,000 a year from the TV Company for the use of the street. I got photos taken in front of each of house, and a photo playing cricket in the street (remember they used to play cricket in the street?!)
The street is a lot smaller than you see it on the TV, I was really surprised! On the way back to Central Melbourne we watched Scott and Charlene's Wedding! Then we got dropped off at Melbourne Museum where we saw Jim Robinson's kitchen! Memories! It was such a weird cheesy day, but it was really good!!!! I'm serious!!!!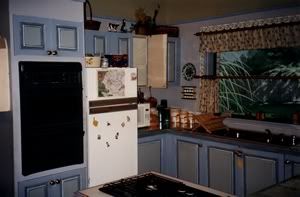 The other days in Melbourne were very similar – Melbourne is knowing for being the sporting centre of Australia, so I decided to go on a couple of Stadium tours!
One day I went on a stadium tour of the MCG – very famous stadium for those that don't know.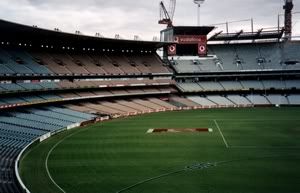 There were only two of us on the tour, and our guide was about 90 years old, the tour was an hour and a half long and it looked like the tour guide was going to collapse at any moment, we were more concerned about him than the tour! We did manage to get through the tour though, saw the changing rooms, umpire box, player's boxes, etc, VIP areas, the stadium itself, but were not allowed on the playing surface. The tour wasn't that good though as half the stadium is missing as they are redeveloping as it will host the Commonwealth Games in 2006 – they are still playing Aussie rules in there though at the moment even though there is only half a stadium!
The following day I went on a tour of the Rod Laver Arena, which is right next to the MCG. The Rod Laver Arena is the main arena of the Australian Open Tennis Championships held in January – some of you might know I like my Tennis, so I was really looking forward to this tour!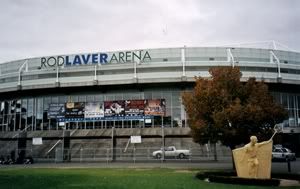 Its only been running for 6 weeks, it's a really good tour!! It also lasted 1 hour 30 minutes, and showed you areas such as the press conference/interview room, changing rooms (Hewitt always has locker 23 for luck), we did the players walk to the court – even though its only a court for 2 weeks of the year, we walked out onto flooring laid on top of the tennis court which protects it for 50 weeks of the year – needs to really as the rest of the time they hold concerts in there – the night before our tour, 'Pink' was performing there. (There were also a lot of people crying outside the arena – they had just been rejected in the auditions for Australian Idol! It was a really good tour, enjoyed it, was cheap too – bonus!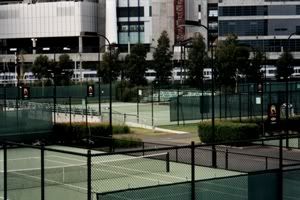 I left Melbourne on Sat 1st May on the overnight bus to Sydney (I could have got on the Oz Experience bus again but I couldn't be bothered going to Canberra in the end, thought I would spent more time one of my favourite places in Australia – Sydney. So after a 12 hour bus journey I got into Sydney on Sunday morning, not much planned, just to tie up a few things, send things home and stuff. Although one thing I did manage to miss when I was in Sydney last was a visit to Homebush Bay – Home to the Sydney Olympics in 2000. So I managed to fit a visit in this time round, I decided to get there the scenic way – by ferry which left Circular Quay and went under the Harbour Bridge on route! It was good until I discovered that the wharf at Sydney Olympic Park was a fair distance away from the Stadiums! So after getting a bus there, I went straight to Telstra Stadium, which used to be known as Stadium Australia – The Olympic Stadium! Also where England won the Rugby World Cup! It was a really good tour! Got to visit a few good areas of the Stadium, including the members/VIP section – they got a good deal here; they paid $34,000 which gives them 2 tickets to every event held there until 2030 – bargain! Also visited the media boxes, then the coaches boxes – I sat in the position where Sir Clive sat during the World Cup Final! Then we went down to the changing rooms, trying to guess where Johnny Wilkinson sat, then went out through the tunnel, to the bit I was looking forward to the most – There they had the real 'Olympic Medal Dais' from the 2000 games, I stood on the top, Gold Medal position pretending I had won the 100m, (well I can dream!).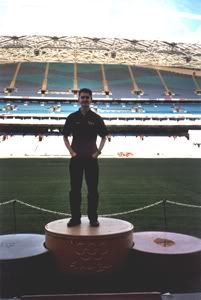 I really enjoyed the tour!
Anyway, tomorrow I leave Australia. I have had a great 3 months here, and I will definitely be coming back. Definite highlights include the Sydney Bridge Climb, Camping/Self Drive of Fraser Island, Sailing around the Whitsunday's, White Water Rafting, Catching up with my relatives in Perth, Travelling through the Outback, Going to the Melbourne Grand Prix, oh and meeting Harold Bishop!
From here I fly to Auckland in New Zealand, all I know so far is that I want to explore both islands and also do 'zorbing' – get inside a big plastic ball and get pushed down a hill while rolling around inside.
Not sure when I'll update next! 2-3 weeks?!
Bye!
Terry