Auckland To Wellington, New Zealand
Kia Ora! (No, not the orange drink, its Maori for… Hello!)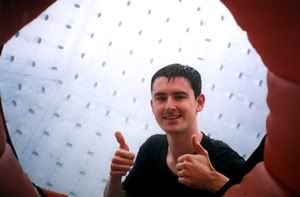 Hope everyone is doing fine, I'm not bad, fighting a bit of a cold at the moment, but everything else is fine!
Since my last update I have left Australia and am now in New Zealand. I arrived in Auckland on 6th May, and since then have travelled down through the North Island, and am currently in Wellington, the capital city on the south coast of the North Island.
I spent a few days in Auckland, but didn't really do much! So not much to tell you really! I did go up the Sky Tower, which is the tallest tower in the Southern Hemisphere, with a height of 328m. I went up shortly before sunset so I could see Auckland by day and then shortly afterwards, could see it by night. The observation deck is only at a height of 192m but its still a fair distance up in the air! While up there I stood on the glass floor, strange experience looking down between your feet and seeing so far down!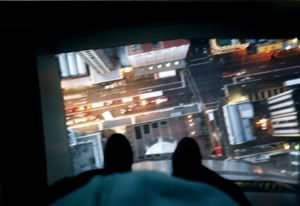 I also watched a few people jump off the tower, as they have 'Sky Jump' – its not exactly a Bungy jump, but I suppose its a similar experience, I had a good laugh at a Japanese guy who jumped and they stopped him at observation deck level so everyone could see him for a few seconds before they dropped him further – he was crying! Anyway, I also went to Victoria Park Market, I saw the worst fake premiership shirts ever! The Arsenal sponsor was 'O' instead of 'O2' and the 'Carlsberg' on the Liverpool shirt didn't looking anything like the Carlsberg font/logo! Across the road at Victoria Park, it's quite a pleasant park……until you notice the overhead stretch of road passing through it! As I said I didn't do much in Auckland, not very impressed with the city to be honest, but I have to go back there when I fly onward to USA. Will be ok though, have a few ideas in the pipeline to keep me busy in Auckland when I go back – New Zealand v England in the rugby – if I get a ticket!
I left Auckland on 10th May to begin my journey south, using another hop on/hop off backpacker bus to get around – Kiwi Experience. On the way out of Auckland, we stopped at Mt Eden, a dormant volcano – from the top I had a great 360 degree view of Auckland! Then we headed to the Coromandel Peninsula, stopping to do a 2 hour return walk to Cathedral Cove – well worth the trip! The overnight stop was in Whitianga – not much to say about it really – a place to sleep!
The following day was an interesting day, with the first brief stop being in a place called 'Paeroa', the town survives on the fact one of New Zealand's best loved soft drinks comes from here 'L&P' (Lemon and Paeroa) having the slogan 'World Famous in New Zealand' – which, to me doesn't make sense!!
Anyway then it was on to the main destination – Rotorua. It's the major thermal area of New Zealand, Lots of steam escaping out of the ground everywhere, not forgetting the sulphur, creating that lovely rotten egg aroma! My guide book actually says that you don't notice the smell after a few hours – YEAH RIGHT!!! That's probably because the person writing that left after a few hours, it smells so bad! Saying that, I did spend two days there! Lots of things to do in Rotorua!
We arrived shortly after midday, shortly afterwards some of us from the bus went to visit the Whakarewa Thermal Reserve/Maori Arts and Crafts Centre – here we were told about Maori history and life, then we moved on to see bubbling mud pools and then Geysers – lots of water gushing out of the ground, was interesting!! Then the girls and lads were split up and taught different Maori dances, the girls learnt the Poi dance, and the lads learnt a simplified version of the Haka! Then we had to perform our dances to each other in the Maori meeting place. Our Haka performance involved taking our t shirts off and lots of sticking out your tongue and yelling and stuff, it was good fun!
Then straight afterwards we went to Skyline Skyrides and went luging! Down three different tracks down the side of the mountain, you travelled quite fast!! I nearly flew off the luge on one corner, I didn't break hard enough! Good recovery though I thought and I still managed to keep the same position in the race we were having!
To complete the busy day, in the evening we went to a Maori Village. When getting to the village, there was lots of protocol to follow, we were told obviously not to laugh at the 'humorous' dance the village chief does and things like that, we were the 'visiting tribe' so had to nominate a chief to represent us, after the village chief came out of the village and did a war dance, he put down a peace offering of a twig and our chief had to go and pick it up and walk backward to his spot (not turning his back), then we were allowed in to watch the people of the village playing Maori games, then we were led into the meeting place where they entertained us with Maori song and dance – it was REALLY good!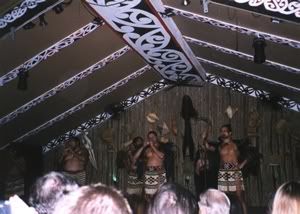 Then it was time for dinner, the way Maori's traditionally cooked their food was in a 'Hangi' – basically by cooking their food in the ground. 'Apparently' the same was done for our meal, but I imagine it would have to be a massive hole to feed over 150 people! The meal was very nice though! At the end of the meal, suddenly the bus drivers, who had brought us to the village, broke out in song and entertained us, was a bit of a surprise to us, seeing the bus drivers taking part too, but I think it was a nice touch to end the evening! It was a superb night, well worth it – full of culture!
The following day was superb too. One of the main things I wanted to do in New Zealand was Zorbing – You get inside a big plastic ball and get pushed down a hill while you get thrown around inside – yeah, very weird and wacky – that's why I wanted to do it! It was raining constantly all day and because of that, I couldn't do a 'Dry Zorb' – when you are harnessed in the Zorb. So I settled for 2 'Wet Zorbs' – the difference being, you are free inside to move and a bucket of warm water is thrown in with you, so you slip and fall about in the ball while rolling down the hill!!! It was great!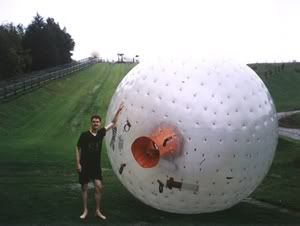 I tried to stand up while rolling down the hill by running on the spot, but its impossible! Within a few seconds I had slipped and was rolling around inside the ball! I did one Zorb down the zigzag track and one on the normal straight run down the hill – both good, but the zigzag track was better as I got thrown around more!
I left smelly Rotorua on 13th May and arrived in Waitomo, a place with lots of caves to explore, but I just ended up doing a walk here – the 'Waitomo Walkway', which for some reason involved walking through a field full of cows, and I mean FULL of cows! Great hostel there too!
The scenery here (in NZ in general) is really nice; I never thought I would find a lot of green hilly areas, scenic!
Following day, after brief walks at Marokopa Falls and Mangapohue Bridge, and then Huka falls – which was a great sight, we arrived in Taupo; along side Lake Taupo (it's bigger than Singapore!). I had planned to do an 8 hour hike – best day hike in New Zealand – 'Tongariro River Crossing', but sadly the weather was too bad and they weren't allowing anyone to do the walk on the day I wanted to do it. I pass through Taupo again though so maybe I can do the walk then. It rained constantly in Taupo – I think the decision to buy a raincoat in Auckland was a good one!
After Taupo, the destination was River Valley, which is in Taihape. On the way we went into Tongariro National Park, and had a picnic lunch. Here we did a walk at Tawhai Falls, and also we could see Mt's Tongariro, Ngauruhoe and Ruapehu – with Ngauruhoe being 'Mt Doom' for all you Lord of the Rings fans.
At River Valley, sleeping arrangements were quite funny – 16 bed dorm, it was like a giant bunk bed – 8 mattresses lines next to each other on both the bottom and top levels! It would have been quite an experience! I say 'would' as in the end we didn't end up sleeping there because one of the guys was sick over about 4 mattresses during the evening – nice eh! Anyway, because of that we got 'upgraded' (and I use that term loosely!) to a room which resembles dorm rooms we are used to! It was freezing overnight there!!! In the morning everywhere was icy!!!
I arrived in Wellington on Monday 17th May, and its just a short visit for now (nice place though from what I have seen) as I want to get to the South Island as soon as possible, before winter really kicks in! I will spend a bit of time here on the way back up north. I leave tomorrow – Thursday, on the interislander ferry which takes 3 hours to reach the Picton, on the South Island. The initial plan for the south island is to travel down the west coast, stopping in such towns as – Nelson, Westport, Mahinapua, Franz Josef, and Wanaka. The major highlight will be Franz Josef where I will do a glacier walk! Oh yeah, and in Mahinapua, I'll be staying at a place called the 'Poo Pub!'
I bet you can't wait until my next update now!!!!
Next update will probably be at the end of May/early June, when I reach Queenstown.
Speak soon
Terry