Wellington To Queenstown, New Zealand
Hello Everyone!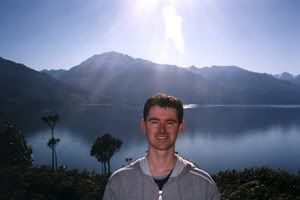 How are you? I jumped into a 109m deep canyon yesterday! – So I'm feeling great! Anyway, more about that later…. (Well I have to make you read all this don't I!?)
Since my last update in Wellington about 2 weeks ago, I have travelled over to the South Island and travelled down the West coast and along the South coast and now am currently in what's known as the adventure capital of the world – Queenstown.
I left Wellington on May 20th on the Interislander ferry, which took 3 hours to reach Picton on the South Island. On the way into Picton, we travelled through Marlborough Sounds – brilliant scenery, can't explain it! That night was spent in Nelson, staying above a Pub again, not much to say about this place, just somewhere to sort out things such as get money out of bank as there would be very little chance to do so down the West Coast. The following day we went to the Abel Tasman National Park – Abel was the first European that found New Zealand, but Captain Cook also found it apparently so I don't know how that works! Most people went on a 1 hour 30 min cruise of the coastline, but considering it cost more than the 3 hour ferry journey the day before, i thought it was a rip off and decided to pass and do a walk instead. Good choice as the cruise was rubbish according to the others! Then it was onto Westport, apparently the Mullet Capital of NZ, sadly I didn't see any! It was a Friday when we were in Westport so a few of us decided to go to the local pub – 'The Dennison & Dog' – its a hip and happening place Westport… we were the only people in the pub on a friday night – just 3 of us. It wasn't getting any better either as we had to watch paint dry – England v New Zealand was live on the TV playing cricket.
The next day was going to be interesting, with the destination being Mahinapua, population 3. We were staying at the Mahinapua Hotel, nicknamed 'The Poo Pub' – sadly I couldn't find a sign saying The Poo Pub to take a photo of, such a shame. A guy called Les owns the pub, he is 83 years old and is 3ft nothing. The night is a fancy dress night, so everyone dresses up as idiots and has a good time. Les cooked our dinner which included a nice piece of steak, and two rough looking women if you can call them women, were the barmaids. – Hence population of 3.
Between Mahinapua and Franz Josef, we stopped off at a place with an option to do Gold Panning! So I got a bowl filled with soil from the banks of the river and headed down to the river edge to shake my bowl in the water – with the idea to get whatever gold there was in the soil to settle at the bottom of the bowl. It was really hard doing this, mainly because of the West Coast pests – Sand flies!!! Attacking you all the time – they are worse than Mosquitoes! Anyway, once I got rid of all the soil I was left with a SMALL amount of gold – really small grains of gold, I had hoped for more obviously, but it was a good thing to try! I also found a piece of Garnet, which is apparently the stone for January?!? Good activity to try! Also gained a lot of bites from the sand flies too!
Next stop was Franz Josef; the only reason to stop there is because of the Glacier! I did a full day hike on Franz Josef Glacier! Got picked up at 9am (didn't get much sleep as I managed to catch the Monaco Grand Prix the night before so didn't go to bed until quite late! – Great race by the way!), and by 10am we were all kitted out in our special gear, Boots with all important thick woolly socks, Crampons (Spiky things that attach to your boots so you can walk on the ice), Ice Axe, Raincoat, Gloves and Hat. After a 40 minute walk, we were at the base of the glacier starting our hike up the glacier! It was a really good hike up! Lots of challenging parts too, not just a gentle walk – squeezing through really small holes in the ice, walking through REALLY TIGHT crevasses, along with somehow walking through other tight crevasses dodging the ice cold pool of water below! It was really good!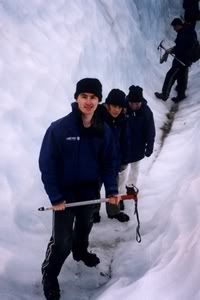 I would have stayed up there longer if I could! After about 4 and a half hours walking up, we turned around and walked back down, obviously with a quicker easier route – I say easier, but I reckon it was harder walking down, there was lots of times I nearly fell on the way down, luckily I survived! Lots of the others in the group did fall a few times, but no damage done.
After a couple of days in Franz Josef I headed on to Wanaka, its a really nice place, scenery is probably the best I have seen in New Zealand so far. Remember I said that the scenery on the North Island was great? Well, it is, but in comparison to the South Island scenery – its rubbish! The South Island just blows you away – when travelling between places on the bus, I constantly look out the window, can't get bored by this scenery!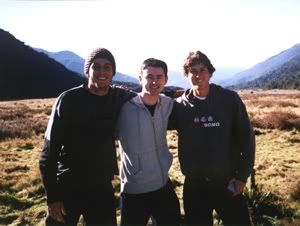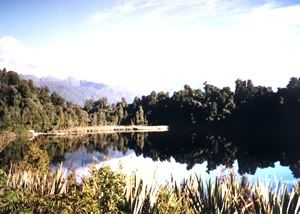 Too many sheep spoiling it though! 80 million sheep here, compared to 4 million human population (3 million of those live on the North Island). For you Lord of the Rings freaks – Wanaka is where you will find 'The Misty Mountains' from the films.
I have to tell you something funny and another thing that I have noticed…. On the way to Wanaka, we stopped at a small supermarket (only people without insect repellent could go in, otherwise the shop assistant would become very ill, so about half the people had to sit on the bus while the rest went in.) One of the guys bought SARS and also some Afghans…. NO, really, he did! A soft drink called SARS, and a packet of biscuits called Afghans. The smell of the drink was enough to kill you I thought. I wonder how many cans of SARS are sold here. Surely sales must have dropped in the last year! Also, I find when I visit these small supermarkets in the middle of nowhere, I always buy things even though I know the food is about a year out of date. I remember tucking into a Mars bar in the outback which was nearly a year passed its best before date – I was hungry!
The following day was really good, it started off with a visit to Puzzling World – only cost $7 to get in which is just over £2. Bargain! Lots of illusions to see, I liked the room where everything was set off by 15 degrees – the snooker table in there freaked me out – the ball rolled UP the table when your mind thought it was impossible! There was also an outdoor maze, but I gave up on that quite quickly as the floor was very icy and I was probably getting frostbite – YES ITS FREEZING HERE NOW!!!! I'm sure all my NZ photos will just be me wearing the same thing – my coat! Then it was onto Queenstown, with a stop at the AJ Hackett Bungy Site – where the first commercial Bungy jump started. Watched a few people from our bus jump, I wasn't tempted myself! Arrived in Queenstown on 26th May, its located on the shores of Lake Wakatipu, I headed up the mountain with the help of the Gondola and the view of Queenstown below next to the lake looked amazing, especially at night. Also Luged for the second time in NZ while up the mountain – I can't help it, it's great! Good few nights out too!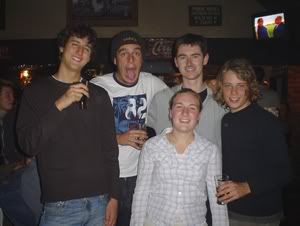 I left Queenstown on 28th, but was coming back. I was spending 4 days seeing a bit of the South Coast. First stop was Dunedin, the 4th biggest city in NZ, its known for being a student city, but has a lot of Scottish roots – Dunedin is Gaelic for Edinburgh. All the school uniform there seems to have some sort of Tartan included! In Dunedin, there were a few things on offer to try. So, did I go to the Otago Peninsula to see the yellow eyed Penguins? What about the Botanical Gardens? Or the really good Museum? NO!!! Don't be silly, more important place to visit – The Cadbury Chocolate Factory!!! I wore a silly hair net on the tour of the factory, but it wasn't so bad as they kept giving us chocolate as we walked through the factory. Saw Chocolate buttons being made, also they have just started making Easter eggs for next year – I know how they get the little bag of chocolate buttons inside the hollow eggs now! Really good tour! And yes, I realise I'm 23, but what can I say? I like Chocolate!
Following day included travelling through an area known as the Catlins – brilliant scenery apparently – I didn't see it! So I wasn't very impressed!!! That night, we stayed above a pub again in a small fishing town called Riverton. Nothing there, we did pass through a city called Invercargill on the way, and it would have made more sense to stay there overnight, but according to the bus driver, its the worst place to live in NZ, to stop the students leaving to go and study in Dunedin, Invercargill is the only place in NZ where you can go to University for free. The thing is, it's not working – students would rather have a debt of $30,000 instead of staying in Invercargill – That says it all!
Next day was a drive to Te Anau – the place was dead, it was a Sunday, but still, there was no one around! The day after, we got picked up from Te Anau and headed to Milford Sound. It's in the Fiordland National Park. The road on the way there is one of the top ten dangerous roads in the world – Yes, thanks for telling us that Mr Bus Driver! We got there alive and went on a cruise of Milford Sound – A 'Sound' is a deep body of water by the way. As the cruise started, within a few minutes, Dolphins were swimming beside us – brilliant!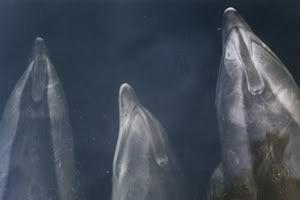 We also got to see more of the marine life by stopping at a underwater observatory, we were about 9 metres below the water and there was lots to see! Good day! I arrived back in Queenstown that night – 31st May.
Yesterday I got up very late, which I think I am allowed to do after getting up before 7am almost everyday on my trip so far! Then it was time to do something crazy. Remember I said Queenstown was the adventure capital of the world? Well, I knew I would have to do something crazy (adventure wise) in Queenstown, I just didn't know what it would be! In the end I decided not to Bungy. Instead I did something very similar; it's called the Canyon Swing! It's the world's highest swing – 109 metres. So I went and handed over $109 (just over £35) to go and jump off into a canyon, Nice! Got to the site, and…. the canyon looked mighty deep! I got harnessed up along with 3 other guys, and the 'jumpmaster' said – Who's first then? The other three were keeping quiet and avoiding eye contact, so I thought if I am going to jump off a cliff, I might as well do it properly and be the first to jump into the unknown. So, there I am volunteering to go first, never jumped before – I thought I was crazy! The Jumpmaster was trying to make me nervous too!
I did feel quite nervous standing there looking out, and once the jumpmaster said "Ok jump when you are ready Terry", I didn't wait to think about it, I just went for it! I took a few steps forward and leaped off the platform, FREEFALLING 60 METRES!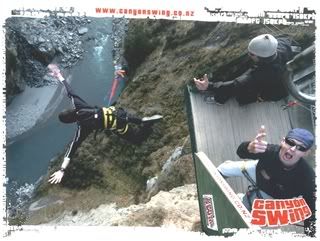 before the cables took over and then the swing came into action (being the other 49 metres, 60+49 = 109 metres), coming within 10 metres of the water below at the lowest point and then I swung towards the other side of the canyon, before being winched back up to the top. It was superb!! I can't believe I jumped!!!
So yeah, that was my crazy Queenstown activity!
Today is my last day in Queenstown and haven't got much planned, I have already been and bought a rugby ticket this morning for the NZ v England game for June 19th which should be good and I might go and see a film this afternoon. Tomorrow it's off to Christchurch for a few days, then to Kaikoura to do some Whale Watching. I should be back on the North Island within a week.
Thanks for all your comments; as usual I enjoy reading them all. I will update next when I get back to Auckland, just before I fly out to the U.S of A. so in about 3 weeks time.
Speak soon
Terry