Queenstown To Auckland, New Zealand
Hello Everyone!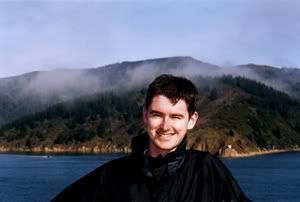 How are you all, I am fine. Its time for my last update from New Zealand as tomorrow I leave and fly to the US of A!
Since my last update, I have been travelling back up north, to arrive where I started – Auckland. I left Queenstown on the 3rd June, for a relatively long journey up to Christchurch. I know I keep going on about the scenery here but we passed Lake Pukaki and Lake Tekapo on the way – the colour of the water was amazing – an incredible aqua blue colour. Christchurch is the biggest city on the south island, it was set up by the English so its got quite a English feel about the place. I was staying in a great location – right in the centre of the city – Cathedral Square.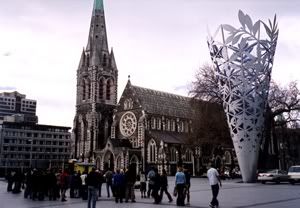 You might guess that there is a cathedral there, I didn't go in so can't tell you much about it! The square is full of street entertainers, and there is a giant chess board there, lots of people stand and watch people play chess for hours! I haven't met many weird people lately so I thought I would go and see 'The Wizard' – a weirdo that spouts rubbish in Cathedral Square at lunchtimes. The Christchurch council actually pay the guy to come and talk everyday! I was disappointed though as he didn't turn up! I had to watch a guy balance a chair on his chin instead. Christchurch was going to be a place to relax so I didn't really do much. I did drag myself to Canterbury museum – it was free. I can see why it was free, but to be honest it did have a good section about Antarctica which was quite interesting! (Christchurch is the main departure point for Antarctica). I also went to the Arts Centre – more street entertainers there! Glad I went, I saw the best mullet on my trip so far, it was crazy! I wish I would have taken a photo! Never mind.
After a few days I moved onto Kaikoura, this is where you can go whale watching – I was really looking forward to it, but guess what! – It got cancelled due to weather conditions! I did consider staying an extra day to do it, but with nothing else to do and the weather looking to stay the same, I moved on!
At Picton I jumped on the ferry for the 3 hour journey back across the Cook Strait to the north island and the capital, Wellington.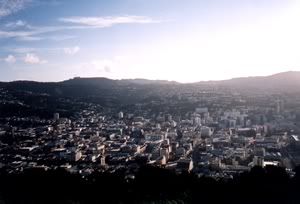 I have been to Wellington before, but I didn't do much! This time around, I visited 'Te Papa', which doesn't mean anything to you, it's basically the 'Museum of New Zealand', I had heard good things about the museum, and yeah – it was quite good, it's massive! And free, which is always good! Also while in the capital I walked up Mt Victoria – I am so unfit! Worth the climb though as good views of the city from the top! I also went to see a couple of films (yes a couple, but I have an excuse!) at the cinema thanks to a fire alarm, I got a free ticket because 'The Day After Tomorrow' was interrupted by the fire alarm (I did get to see the rest of the film)- on 'cheap ticket Tuesday' too!
From Wellington I travelled up to Taupo, I was back here to do the Tongariro River Crossing which was cancelled last time I was here due to bad weather (sounds familiar!), this time around it was running, but because it was now snowing up there the price to do it had shot up, and I decided to give it a miss, not paying $65 to do a walk. I did a free walk though – to 'Huka Falls'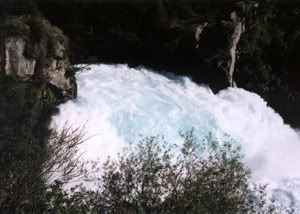 and 'The Craters of the Moon'. Huka Falls is quite a good waterfall, and The Craters of the Moon is a thermal area – lots of steam escaping from the ground – in this case, from craters. 4 hour return walk. From Taupo I went to Rotorua, the best place on the North Island for me (disregarding the smell, of course!). I had done pretty much every activity I wanted to do last time I was there, but I decided to go luging again, a good cheap activity to do! The second day I was there, I got up at 6:30am to watch the first England match of Euro 2004 – Versus France. It fell apart didn't it! I was devastated for the rest of the day. I arrived back in Auckland on Tuesday 15th June. On the way up we stopped in Matamata for lunch, this is where they filmed the Hobbiton scenes from Lord of the Rings. They have a 'Welcome to Hobbiton' sign in Matamata, I decided to get a cheesy photo with it, I am really into comedy photos at the moment, and someone came up with the idea to pretend to be hobbits (hobbits are small if you didn't know) – So on this central reservation/grassy area, I took my trainers off and rested my knees on the trainers – obviously making me look smaller like a hobbit (and look like a fool too).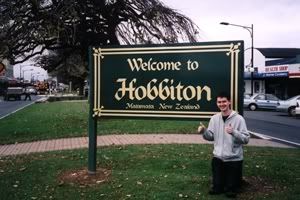 As I said it was a cheesy photo to take, but I am so pleased I'm not as stupid as some people who were taking photos of the Hobbit Hole Internet Cafe (it was just a internet cafe, with a drawing of a Hobbit Hole on the front.)
After a night in Auckland, I left the next day to head further north, to Paihia. Not much to say about Paihia and the Bay of Islands – erm, it rained a lot. From there I headed up to Cape Reinga on a day trip – the most northern point of New Zealand. I wanted a photo next to the 19,000 km sign to London, which is there but we weren't allowed near it because of building work! So I have a photo of the lighthouse at Cape Reinga, but with a JCB digger in shot too – nice! Also on the day trip, we went to giant sand dunes, as believe me, they were massive!!! We all sand boarded down the dunes using body boards, good fun, but I'm sure the dune was half the size after we did it, yeah, that's right – because everyone was covered in sand. I'm still finding sand days later! We drove back via Ninety Mile Beach (even though its only 60 miles long), it's actually a state highway which is a bit strange! Back in Paihia on my last day there, I got up at 3:45am to watch the second England match – how's that for commitment. 4 other people from the hostel managed it too, it was a good result!
I arrived back in Auckland on Friday night (18th). The following day was the only thing I was looking forward to – in terms of coming back to the rubbish city that is Auckland! It was the day of the Rugby! I had a ticket, and was going with 3 friends (Lucky to get a ticket actually as they sold out in 8 minutes). Been looking forward to it for ages! We actually managed to get a free lift to the Stadium – Eden Park.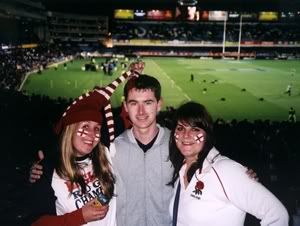 Very strange experience though – on a bus full of Kiwis!!! We had the cheapest seats in the stadium obviously, but we had a good view! Pity that we lost though – I kind of expected it after the defeat the week before! I expected more England fans, we could really only see Kiwi's all around us! It was a good atmosphere though, good bit of banter going on!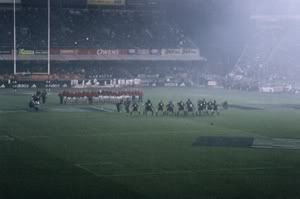 At the end of the game, we knew someone else that got invited to the game by one of the ground staff, so we stopped behind for a couple of FREE drinks in the stadium. It was a really good night (apart from the result!).
New Zealand has been a great country to visit, stunning scenery, and friendly people. Pity about the weather, but that's my fault for coming in winter! In a few days I'll be back in the northern hemisphere = SUMMERTIME!
I have to finish talking about NZ by talking about sheep, yes, Sheep. You can tell how much the kiwi's love their sheep by this crazy law…. apparently if you steal sheep you can get a life sentence. So, stealing sheep ranks along side murdering someone. Don't you love the facts I tell you?!?!?
So, tomorrow I fly to Los Angeles, USA. I will be doing a bit of star spotting as I am staying in Hollywood. During the flight, I'll be crossing the International Date Line, so I will live Tuesday June 22nd twice! After a 12 hour flight over the Pacific Ocean, I arrive in L.A 7 hours before taking off!
I have been travelling now for 5 months, with 2 and a half months left, so I have a third of my trip left, and travelling around USA and Canada will be slightly different as for the majority of the time I'll be city hopping! Not to begin with though, as I'll be travelling overland between L.A and San Francisco – via The Grand Canyon, Las Vegas, and Yosemite National Park. I think it will be a great start to USA!
The next update will be in San Francisco, just before I fly to my next destination – Seattle. That will be just over 2 weeks time.
Yet again, thanks for the e-mails and keeping in touch!
Terry